Every day a child needs your help to survive, go to school and be protected. Act now.
Every day, children need things we take for granted, whether that's vaccination, nutrition, education or feeling safe.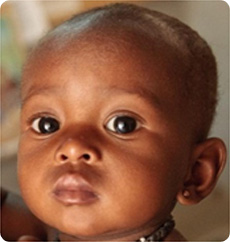 © UNICEF/NYHQ2012-0356/Olivier Asselin
Saamatou is 7 months old. She is malnourished. And living in Burkina Faso means there's a 1 in 10 chance she'll die before reaching her fifth birthday. With your support she can grow up healthy, stay protected from harm and go to school.
Right now 16,000 children still die each day, largely from preventable causes, 58 million children are missing out on their right to go to school, more than 168 million children aged 5 to 17 are trapped in child labour and by the end of the day, over 650 children will be newly infected with HIV.
In over 190 countries around the world we fight daily to change this. We work against child malnutrition, diseases and abuses, helping all the children to get the basic education and rights so that they not only survive but thrive. From immunizing children against preventable diseases, to rebuilding schools after disasters, we do whatever it takes to reach every child who needs us.
But to do this we need the help of supporters like you. Please make a monthly donation today - just a few dollars a month can help save lives, protect childhoods and give children the chance to go to school.

Your regular donation will help support these programmes:
Child survival and development
We provide essential health, nutrition, water and sanitation programme to ensure children's basic right to grow up in good health. Hunger, malnutrition and famine are affecting millions of children all around the world. We are fighting that every day.
Child education and gender equality
Education is critical to the development of individuals and societies, and helps pave the way to a brighter future. We work to ensure that children have access to rights-based, quality education.
HIV and AIDS
More than 17 million children have lost one or both parents to AIDS. UNICEF works to help look after these vulnerable children, providing medical assistance and education.
Child protection
Around 6 in 10 children between the ages of 2 and 14 worldwide (almost a billion) are subjected to physical punishment by their caregivers on a regular basis.