Air Drops and All Hands on Deck in conflict-ridden South Sudan
Somewhere in South Sudan, 28 March - Every topic, every occupation has misconceptions nailed to it. Simplistic notions in which people and ideas fit. Solicitors are shifty, tradesman are tardy, Facebookers are fickle, and recipients of aid wait around for the do-gooders to deliver.
And then there is the reality.
Here in the west of South Sudan, near the border of Ethiopia, life is hard. That box fits. Temperatures don't rise to 120degrees (50 Celsius), they sit there pretty much all day, every day. And yet when UNICEF and the World Food Programme arrived, unannounced, and asked the village chief/commissioner to establish a zone where vital supplies could land after being dropped from the air, more than 50 men immediately volunteered.
Two of the more than 100 volunteers who helped unload hundreds of tons of life saving UNICEF supplies, and clear land for emergency air drops.
In theory it was simple – clear a space of land about the size of four football fields. In practice it was grueling. With nothing more than matches and machetes, the men set about chopping down trees, hauling rocks, and clearing undergrowth. The sun was unrelenting; the men retreated just thrice. Twice for water, and once to eat. Some had shoes, some did not. None complained.
"This is what we do," said Gatluak Wur. Then he returned to shredding stubborn thorns.
The UN says more than 3.7 million people at risk of severe food shortages as well as disease outbreaks and acute malnutrition. More than 380,000 children have fled the safety of their homes. 380,000. Hunger dogs them. Hopelessness does not.
In a race against time – a cliché that represents a very real warning of cholera and malnutrition – the United Nations Children's Fund (UNICEF) and the World Food Program (WFP) are today reaching those who were inaccessible just a day ago. And those who were inaccessible, who had fled into the bush to flee fighting, are rallying in numbers to ensure the supplies get to those who need them most, and quickly.
The new strategy is a complex one. It's challenging to deliver aid in times of conflict; all the more so in a country that even in peacetime was critically short of infrastructure. A few UNICEF and WFP staff are flown to the town, myself included, carrying their own water, food and tents. They will contend with malaria and guinea worm (a parasite found in the water, which spends up to a year in the body, before burrowing out of the skin).
For the distribution to start, a head count that runs into tens of thousands and covers hundreds of square kilometers must be done; as this occurs, those already trained vaccinate children against measles and polio, while others monitor the nutrition levels of children; some are referred, others are given emergency treatment. Land is cleared; UNICEF supplies that can't be dropped from 500metres– vaccines, education supplies, water and hygiene kits – are flown in by helicopter and are unloaded; families are registered; youth are trained to support; those previously trained vaccinate children; others talk to those on the move to see if there are children with them who have become separated from their parents during the conflict.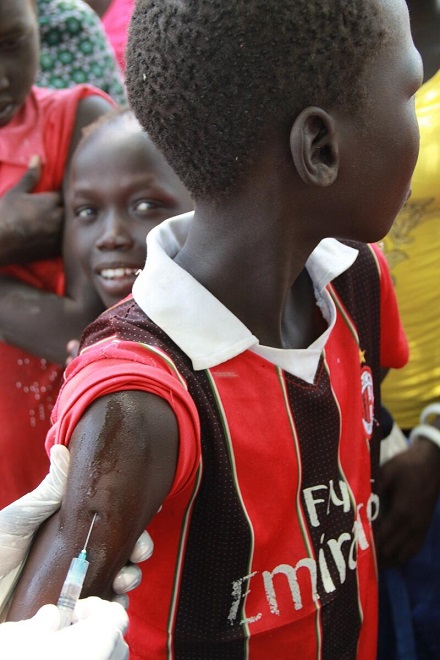 Emergency vaccination campaigns are underway to ensure all children - including those in remote areas - are protected.
The heat shows now mercy. The volunteers only have compassion. Helicopters and cargo planes then lead air drops; hundreds of metric tons tumble from the sky; more volunteers move it, then sort it. There are no trucks. Distribution commences. It will take several days.
While few South Sudanese are empowered to change the present chaotic course of events, all are eager to lend a hand. "We are regularly, and rightly, told of the grim situation facing women and children," said UNICEF's Representative in South Sudan, Jonathan Veitch, "but too often it implies they are inert victims. That is simply not the case. People want to be part of their future, they want to contribute. Our job is to ensure they can."
You can support vital relief efforts by donating to the Emergency Fund.
Categories:
Geographic Regions: