Amid the chaos of conflict in South Sudan, reuniting separated children with their families
By Mercy Kolok
JUBA, South Sudan, 24 March 2014 – So many questions crossed Josephine's* mind when she heard the gunfire, back in December. "Is the country going back to war? Will my children live the same life I did? What about the safety of my children?"
Safe harbour
It has been nearly three months since Josephine and her three children sought safety at the United Nations Mission in the Republic of South Sudan (UNMISS) base in Juba.
In December, Josephine had been going about her daily routine in Giada, Juba. "I was preparing dinner for my family, and, just when we were getting ready to eat, we heard gunshots.
"At first, I thought these were the usual gunshots that we hear in Juba almost on a nightly basis – but the shooting went on all night," she recalls.
Josephine's husband is a soldier. He was asked to report ahat evening.
Josephine and the children fled to the UNMISS base on the second day of the conflict. "The situation did not seem to be improving, and I feared for the safety of my family," she says.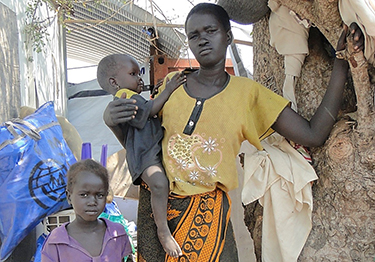 © UNICEF South Sudan/2014/Kolok
Josephine and two of her children. Despite being displaced by the resurgent violence, she has begun caring for the child of a neighbour who became separated from his family.
A child, alone
When the family arrived at the UNMISS camp for displaced persons, Josephine saw one of her neighbour's children. Fourteen-year-old Ben had lost contact with his brother, a soldier. Josephine took responsibility for Ben. He has been living with them since.
"I decided to take the child in with our family because he has nowhere to go and no one to take care of him," she explains. "I will take care of him and share the little that we have with him until he is reunited with his family," she adds.
And if Ben and his family are not reunited?
"He will continue to stay with my family," she stresses. "Where else will he go? He is just an innocent child who needs care and protection, especially during this difficult time," she says.
Family tracing, reunification
Amidst the chaos of conflict situations, children like Ben may become separated from their families, putting them at great risk. Locating these children's families to reunite them is a high priority for UNICEF.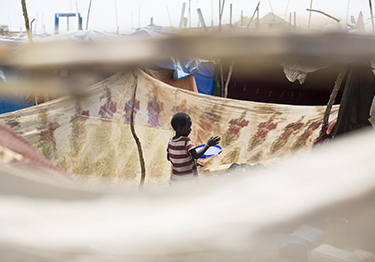 © UNICEF/NYHQ2014-0229/Knowles-Coursin
A girl at a displacement site in Malakal. Though she remains with her family, resurgent conflict has caused children to become separated from their relatives. UNICEF and partners are working to reunite them.
According to UNICEF's Chief of Child Protection Fatuma Ibrahim, "UNICEF works through partners to identify, trace and reunite unaccompanied and missing children with their families. We also ensure that children are protected throughout the reunification process."
With support from the Office of U.S. Foreign Disaster Assistance (OFDA), UNICEF has supported partners on the ground to set up a family tracing system. Partners are are using this system to identify children, where intense fighting has taken place.
Since December, 223 unaccompanied, separated or missing children have been reunified, of 1,780 in need of these services. Underlining the seriousness of the situation in South Sudan, and the scale of the work for UNICEF and its partners, approximately 380,000 children have been displaced by the conflict.
In the meantime, Josephine passes time in her tiny tent with her children and Ben. "I still don't know why people are fighting," she says, "but one thing I know for sure is that our lives have changed forever.
"My prayer is that this conflict will stop and families will be reunited."
You can help mothers like Josephine and children like Ben by donating to UNICEF's Emergency Fund.
Despite the signing of an agreement to cease hostilities last month, the humanitarian needs in the country remain high, as more and more people are displaced by violence in the Upper Nile, Jonglei and Unity States. There has been a significant increase in the number of families reporting missing children, especially in areas affected by conflict.
Categories:
Geographic Regions: