David's Blog: Update on the Horn of Africa
By David Morley
President and CEO, UNICEF Canada
The most inspiring presentation while we were here came from As Sy and Ted Chaiban, our Regional Director for East and Southern Africa and Rep in Ethiopia, respectively.
They reviewed what has happened – and not happened – in the Horn of Africa since the crisis last summer.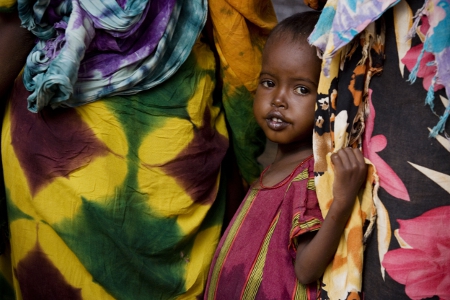 Soaring food prices, the worst drought in 60 years and conflict and insecurity threaten an entire way of life in the Horn of Africa. The people I met last fall in Dadaab Refugee Camp in Kenya - now Kenya's third largest city (and what would we do in Canada if we suddenly found half a million poor refugees pouring across the border and setting up a city?) were weak and desperate – and they were the lucky ones, for only the strongest could make the long trek – often four weeks – to safety. And we were the best placed to help them – both those who made it to Dadaab and those who were caught inside Somalia – because we have been working in the region for a long time. We are not newcomers just responding to the crisis. We are around for the long haul.
In all, we received about $450 million to respond to the crisis – and we used the money well. We treated 340,000 severely acute malnourished children, administered nearly 8 million vaccines. More than 3 million people had improved access to water, and countless families received supplementary feeding. Last August we feared the famine would spread and increase – but it didn't. And, in Ethiopia the story was what did not happen. Despite the drought – which was just as bad there as across the border in Somalia, we did NOT see a repeat of the 1970s or 1980s when there were famines. In Ethiopia, where we had helped the government implement a dramatic increase in rural health posts and also helped develop a community-based social safety net where village committees identified the neediest people and gave them cash or food, there was no famine.
So the people of the Horn have made it through the worst – this time. But our work continues – now we must help the children who survived grow and thrive and gain strength against the next time the rains fail. Our work in Ethiopia shows what can be done. The situation is not hopeless. If everyone perseveres, and we in UNICEF do what only we can do – from the government to the grass roots – the children of the Horn can grow strong.
David's Field Blog:
One Year After the Famine - Now What?
Follow @DMorleyUNICEF
Categories:
Geographic Regions: