Making a Difference in Honduras
"Before, we had to go very early to collect spring water. We walked for a long time to the spring and home again. Then, there were times when we got sick," said 12-year-old Selvin Hernandez. "But now everything has changed."
Selvin had never seen piped water before – but now his family has its own tap. "I never expected to see something like that in our house," he said, smiling.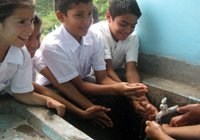 With UNICEF's support, the National Autonomous Service of Aqueducts and Sewers recently installed improved water and sanitation infrastructure in Selvin's village, Cerritos II. Twelve months ago, the program brought tap water to each of the 40 homes in the community—thereby changing its residents' lives completely. © UNICEF Honduras/2011/González
"Before, we got sick three times a month," said Selvin. "I developed an itchy rash, and they said it was because of the water. But now it doesn't happen anymore."
The new infrastructure has brought dramatic improvements. The chief medical officer at the community health centre, Juan Carlos Lopez, reported a marked decline in instances of water-borne diseases causing diarrhea, skin infections and other illnesses.
Prior to the changes, the lack of drinking water not only affected children's health, but also hindered their access to education.
"I know several children who went to fill water jugs each morning. That's why they could not always come to school," said Selvin.
The situation at Selvin's school has improved dramatically. Fatima Santos, the school's only teacher, happily testified that children's attendance has increased—along with their quality of life. "Before, we had no latrines, and they had to go to someone's house for their needs," Ms. Santos said.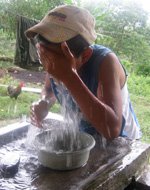 During our visit, the students proudly demonstrated how to wash their hands, and how to use water responsibly. "Today we take care of the water," said Selvin. "I learned to wash my hands or brush my teeth, and then close the tap to avoid waste."
Yet, according to the WHO, an estimated 1 million people in Honduras still lack access to clean water, and about 1.8 million live without access to basic © UNICEF Honduras/ sanitation. 2011/González
Empowering communities to maintain their own water and sanitation is a major UNICEF priority.
"All of us worked in one way or another," said Water Board Treasurer Maria Aide Funes. "With our cars, with labour, laying pipes. We believe that coming together, and being organized, gives us strength."
Categories:
Geographic Regions: