Parent Corner: One Mother's Reflections on the World of Breastfeeding
By Sharon Avery
Chief of Development, UNICEF Canada
Having just returned from work after a wonderful year off with my second child, I've been reflecting quite a bit on how special – and how fleeting – that time is, when our children are infants.
It goes without saying that having a baby is a life-altering experience. My life changed in so many ways, big and small. It was simultaneously joyous, exhausting, uplifting and terrifying, all at once. Did I mention exhausting?
No matter what the day brought, one constant source of calm, comfort and connection with each of my babies was breastfeeding. (I am so grateful it came easily for me, as I know, for many women, it is a struggle.)
First there was the physical closeness – and the comfort that came from knowing that I was providing nourishment, comfort and security.
It was also a time to rest, take a breath, reflect on the day's highs and lows, and the changes I witnessed as my baby grew.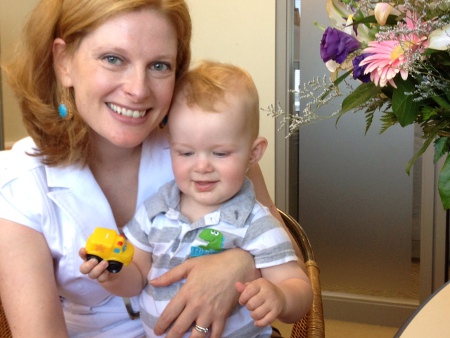 I took enormous comfort in knowing that I was giving my babies their best possible start in life, boosting their immune system, providing them with the essential nutrients for optimal growth and development.
And, as a UNICEF staffer, I also found myself reflecting on how the act of nursing my child connected me to millions of women around the world, providing for their children in exactly the same way.
Yet breastfeeding, for all its benefits, has suffered many blows to its global reputation. In some parts of the world, it is a sign of privilege to be able to feed one's baby with formula. Others have been wrongly informed that formula is more nutritious. Still others face barriers that make it near impossible to take a maternity leave, or to breastfeed at work. Though the global rates of breastfeeding are no longer on the decline, in East Asia, the numbers are dropping at an alarming rate. UNICEF is doing its utmost to reverse that trend.
With stronger national policies supporting breastfeeding in the developing world, more than one million children under five would live to see their fifth birthday. We need to make it easier for mothers to breastfeed so that children can survive and thrive.
Today, on the last day of World Breastfeeding Week, I encourage you to do whatever you can to help promote breastfeeding – here and around the world. Celebrate and support the moms you know who are breastfeeding their babies. Encourage your employer to consider the needs of nursing moms in its HR policies. Post something on Facebook or Twitter. You too can help ensure the next generation gets the best possible start in life.
Learn More
Breastfeeding: the best start to life
More in this Blog Series
Categories: