Powerful photos reveal Ethiopia's worst drought in decades
Plus the incredible impact of humanitarian aid for children.
By Jacob Hunt, UNICEF Australia
When the rains fail, everything changes.
Ethiopia relies on the main rainy season for 80% of its agricultural produce but in 2015, the rains failed to devastating effect. Harvests were ruined, water sources ran dry and millions of children were left dependant on food aid for survival.

It couldn't have happened at a worse time: one of the most powerful El Niño weather events in 50 years has intensified the drought and continues to wreak havoc on children's lives today.

See what the worst drought in decades means for children and how UNICEF is delivering lifesaving supplies.
Children are going to incredible lengths to find water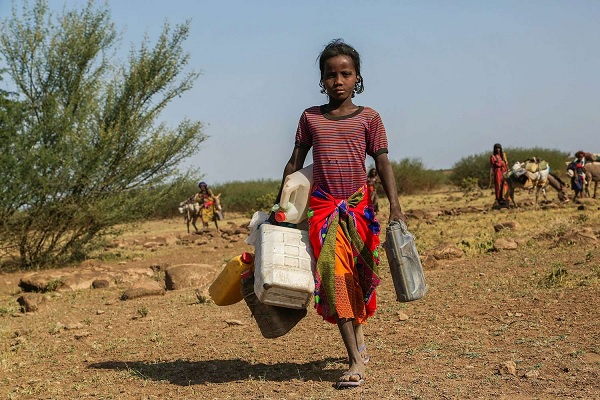 © UNICEF Ethiopia/2015/Tesfaye
When your only source of clean drinking water dries up, you search as far as it takes to find what you need to survive. For 12-year-old Sofia, that meant walking 35 kilometres from her family's home to the nearest water point, then all the way back carrying heavy containers.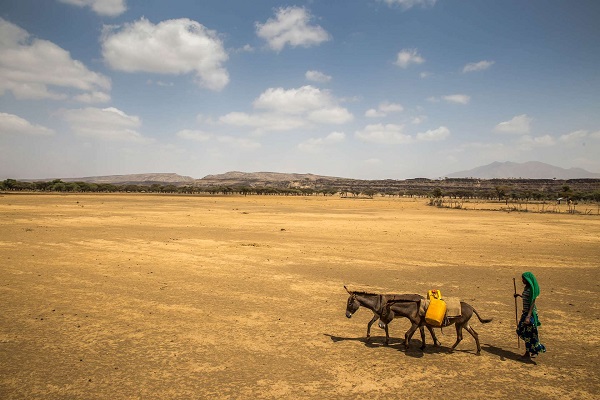 © UNICEF/UN010131/Ayene
Harko, 12, doesn't go to school anymore because she has to search for water almost every day. She travels at night to avoid the heat and doesn't get home until well into the afternoon of the next day. She says it's a scary journey because she has to look out for hyenas.
The drought is stopping 2.1 million children like Harko from getting the education they deserve.
Animals are withering away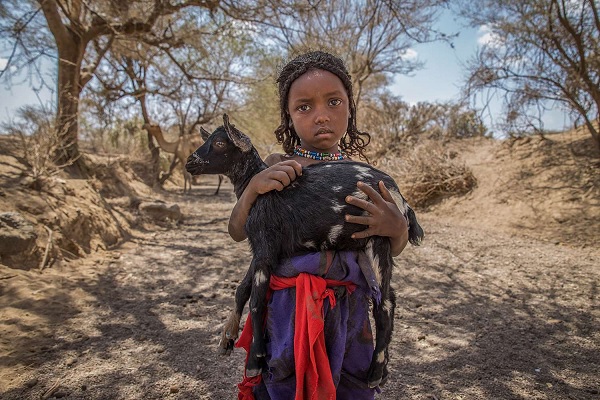 © UNICEF Ethiopia/2016/Ayene
To six-year-old Hamida, this goat is much more than a furry friend - it's an important part of her family's livelihood. As grazing lands disappear and livestock wither away, animals like this have never been more precious to 85% of Ethiopia's workforce who rely on agriculture to make a living and feed their families.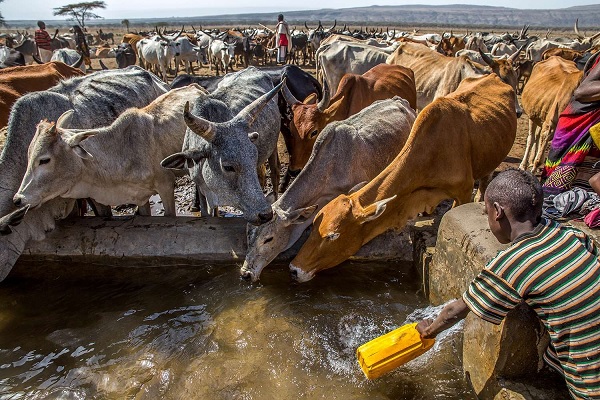 © UNICEF/UN010142/Ayene
Families travel up to ten hours to get to this water point in Oromia Region but the water is hot and salty and children drink from the same trough as their animals. Mothers say that children have diarrhoea and back pains but, with no other water source for kilometres, they just don't have any other option.
Clean water is saving lives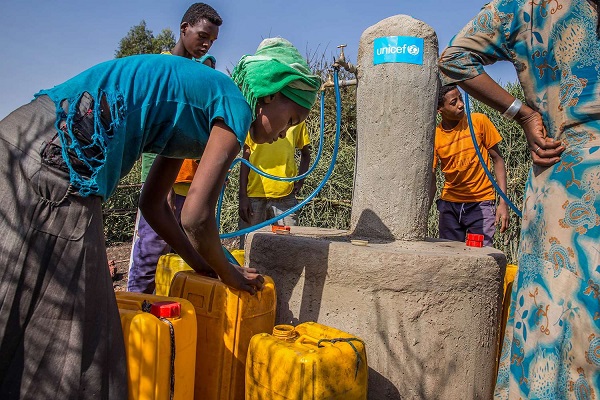 © UNICEF/UN010163/Ayene
There is hope. Since this UNICEF-supported pump was installed in Sire Woreda, life has changed dramatically.

Children say that the water pump is everything to them, it's like their "soul." Before they were travelling three hours over terrain so rocky that even donkeys struggled to climb the hills. When they reached the river, it was dirty and a constant risk of disease.

Sadly the new pump came too late for Fatuma Abdullah's seven year old son, Anwar, who fell ill after drinking dirty water. His tummy pains were so bad that he asked his mother to tie his stomach to try and stop them. Fatuma says, "I think my child's problem came from drinking dirty water from the river, and drinking the water that our cows drink."

While Fatuma's son is still sick, she says she doesn't have to fear that her other children will fall ill anymore. Families are "joyful" about the pump and the children are now able to go to school.

UNICEF has already provided 300,000 people with access to safe water in 2016.
Malnutrition is soaring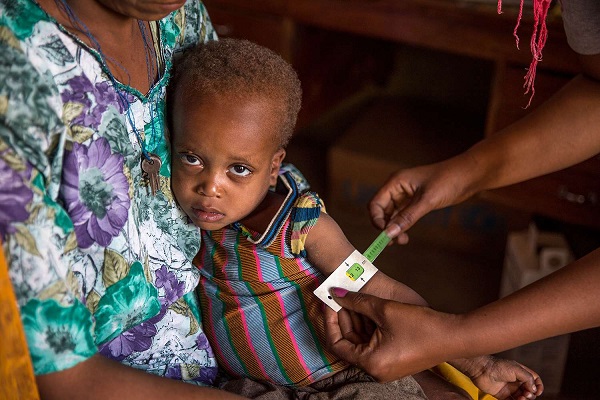 ©UNICEF Ethiopia/2016/Ayene
As food becomes desperately scarce, parents are struggling to give their children enough nutritious meals. It's a particularly dangerous time for young children - if they don't get the essential nutrients they need in this critical stage of development, they could be left stunted and feel the effects for the rest of their lives.
Health workers measure the circumference of children's upper arms to quickly assess their level of nutrition. Two-year-old Habib is recovering well after being diagnosed with moderate acute malnutrition two weeks earlier and receiving supplementary food.
This year, 2.2 million children, pregnant women and new mothers in Ethiopia are expected to need support for moderate acute malnutrition.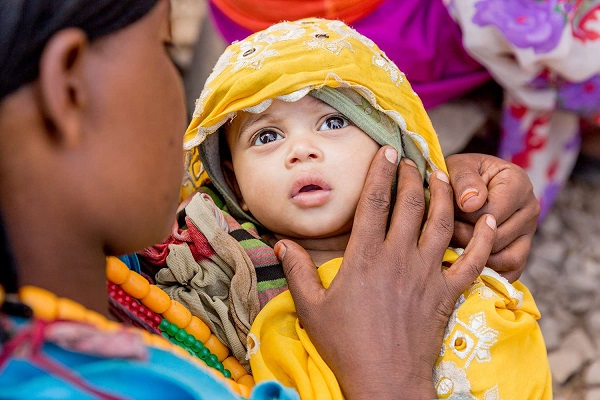 © UNICEF ETHIOPIA/ 2016/ Mersha
UNICEF is supporting more than 15,000 therapeutic feeding sites and stabilisation centres with emergency supplies and training.
The centres are a lifeline for mothers like Shitto, who brought her 4-month-old son to Dire Kiltu health post for treatment.
UNICEF is delivering emergency supplies on a massive scale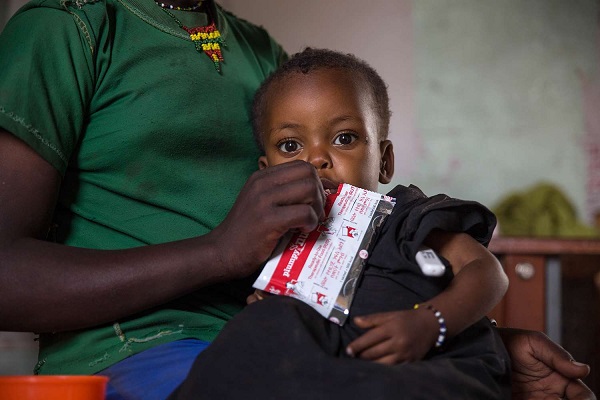 © UNICEF Ethiopia/2016/Ayene
Two-year-old Nebila has been eating ready-to-use therapeutic food since she was diagnosed with severe acute malnutrition two weeks ago. It's called Plumpy'nut, a high-protein paste made from peanuts and packed with essential calories and vitamins, and it can help bring a severely malnourished child like Nebila back to a stable condition within weeks.

This year, UNICEF is preparing to distribute 543,631 cartons of this lifesaving food to children like Nebila.
Health posts in remote communities are giving mothers a chance to get routine medications, vaccinations and advice on how to keep their newborns safe and healthy through this tough time.

UNICEF funds Mobile Health and Nutrition Teams to treat common illnesses and malnutrition, educate local communities on good health practices and refer complex and critical cases to the nearest facilities to ensure children get the right care.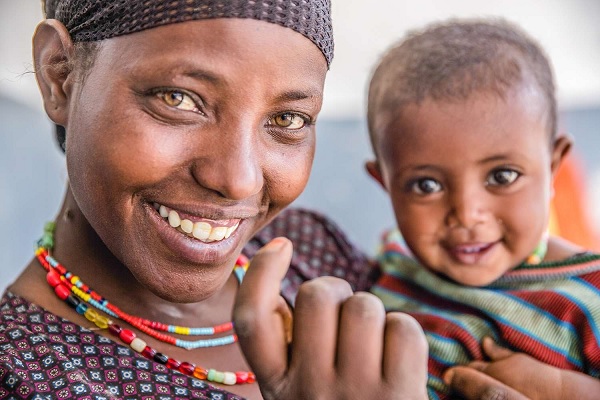 © UNICEF ETHIOPIA/ 2016/ Mersha
Fatuma Jemal brought her 11-month-old son, Zanzu, to a health post in Arsi Zone for a therapeutic feeding program. So far this year, UNICEF has helped these programs admit more than 25,000 children for treatment of severe acute malnutrition.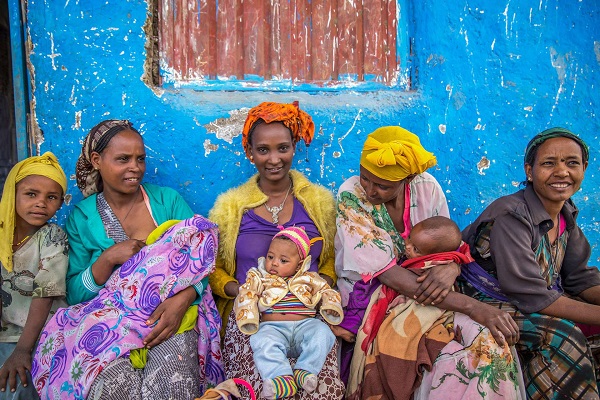 © UNICEF Ethiopia/2016/Ayene
These mothers gathered at a health post in Mareko Woreda to get checkups and treatment for their children.
The current crisis is threatening the good progress Ethiopian communities have made in recent years. Between 2000 and 2014, child mortality rates were cut by two thirds and stunting rates dropped from 58 to 40 per cent. But with six million children now at risk of hunger, disease and lack of water, these gains are at risk.
Vaccinations are more important than ever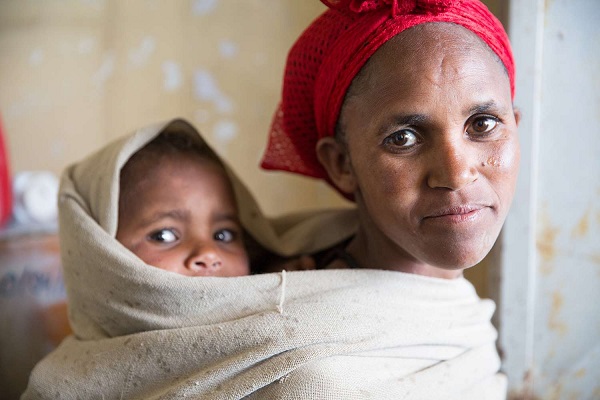 © UNICEF Ethiopia/2016/Balasundaram
As children become malnourished, they are more susceptible to measles and its complications - including death. Berhan Haile had her children vaccinated at a health centre in Tigray Region because she feared they could die from the disease. "There was someone in my village that had measles and he was covered in a rash all over his body," she remembered. "We are grateful for these vaccines."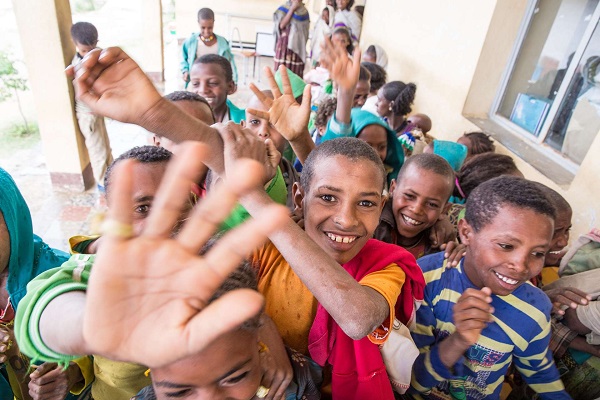 © UNICEF Ethiopia/2016/Balasundaram
Last month, UNICEF supported a massive immunisation campaign aiming to vaccinate 25 million children in the most drought affected areas nationwide. As the world's largest buyer of vaccines, UNICEF provided supplies to the Ethiopian Ministry of Health so it could urgently reach children across the country.
These children laughed and played after being vaccinated at the Merb Mieti Health Center in Tigray Region.
Lost education will impact children's lives for years to come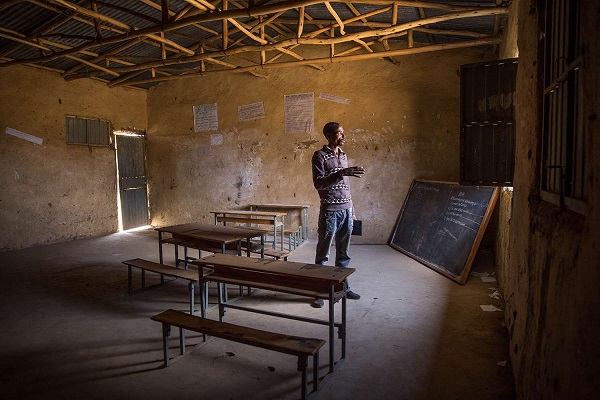 © UNICEF/UN010120/Ayene
Classes at Haro Huba community school should have started today but barely any students have made it. Instead of learning, they are trying to survive each day as best they can, searching for water and helping their families.
Mr Gurmeesso says the solution is clear: "if there is water, they will return."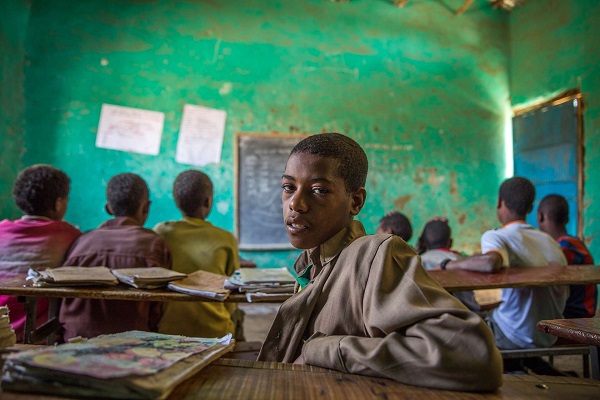 © UNICEF Ethiopia/2016/Ayene
Wogbela, 15, has to travel to a neighbouring area for water and doesn't return home until the next day. "I am late to school every day," he says. It's a common story at Washe Faka Primary School, where the drought has exacerbated chronic water shortages.
UNICEF supports the rehabilitation, maintenance and upgrade of wells and boreholes, while giving families water purification and treatment chemicals. The team in Ethiopia is also trialling satellites to detect deep groundwater for large scale systems that supply multiple villages.
Water is bringing schools back to life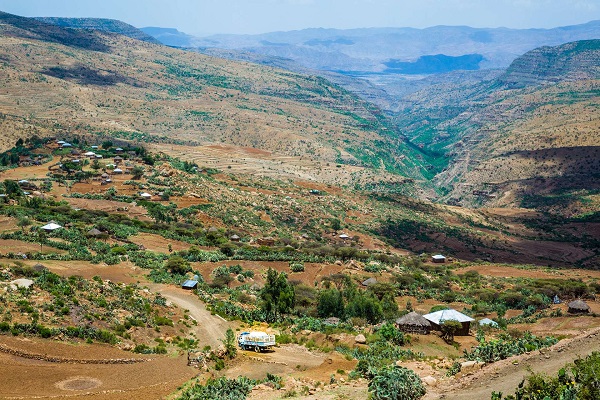 © UNICEF Ethiopia/2016/Hema Balasundaram
High in the mountains of Tigray Region, a truck carrying 10,000 litres of water makes its way to Gonka Complete Primary School, where the local well is running dry. About 60 per cent of the school's students have been absent, with some walking for hours to fetch water at a distant river.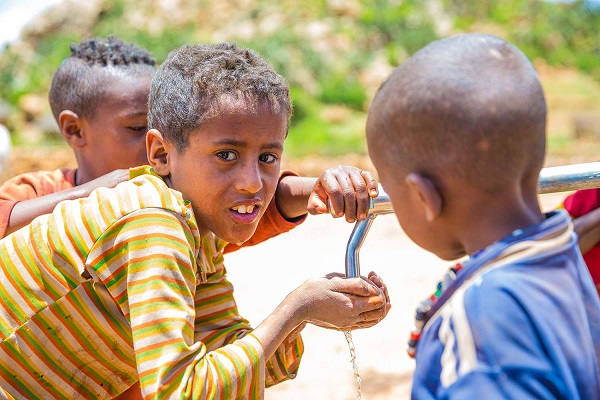 © UNICEF Ethiopia/2016/Hema Balasundaram
Things have changed at the school since UNICEF started supporting regular water deliveries. Attendance rates are on the rise and children have more energy to concentrate in class.

Bringing clean water and sanitation to schools can also make an impact far beyond the classroom. As children learn about the importance of safe water and hygiene, they often pass on their knowledge to other family members and can influence their entire communities.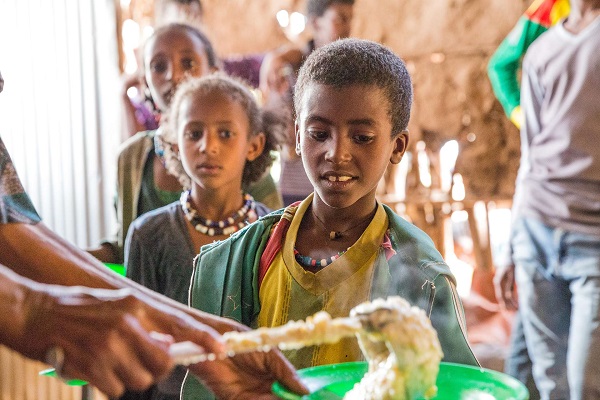 © UNICEF Ethiopia/2016/Hema Balasundaram
Water deliveries are also helping the school to prepare meals for its students. For many of the children, it may be the only regular and nutritious meal they receive, so it's a critical safety net during the food crisis and a great incentive to keep students coming back to class.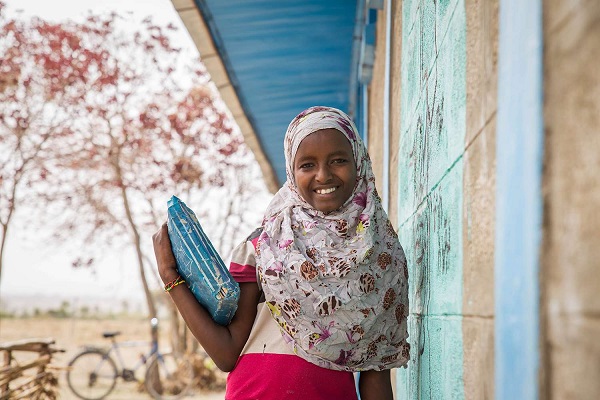 © UNICEF Ethiopia/2016/Ayene
"I'm very happy that there is a water point here now - my house is just ten minutes away," says Rawda, 10, at Asore Primary School. "Before, I had to help my mother collect water. We had to travel long distances with a donkey and sometimes I carried ten litres of water."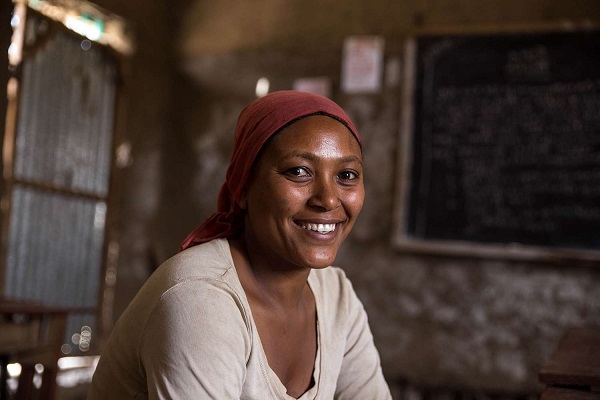 © UNICEF Ethiopia/2016/Ayene
"I used to miss school about two or three days a week because I needed to fetch water for my family," says 14-year-old Lubaba. "I'm very happy about this new water point. It will make things so much better for our health, hygiene and education."

These children are not giving up and neither can we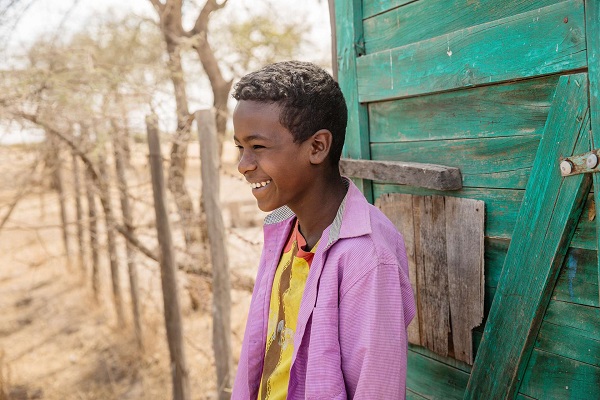 © UNICEF ETHIOPIA/ 2016/ Mersha
12-year-old Dereje is in the 4th grade and loves to learn English. He wants to become a teacher so he can stay in his community and make a difference for future generations. UNICEF wants to give Dereje that chance, so we'll keep working to give him the clean water and nutrition he needs to stay healthy, and the education he needs to live out his full potential.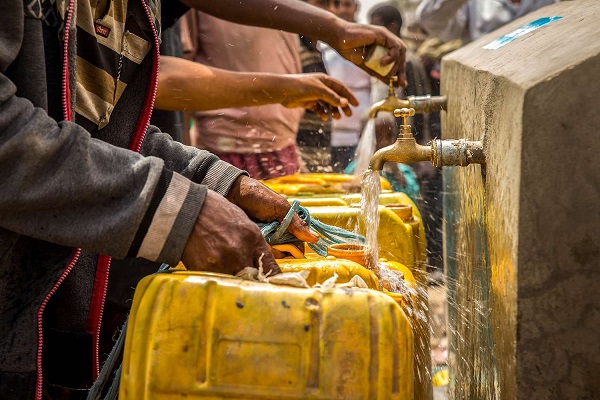 © UNICEF Ethiopia/2016/Ayene
Humanitarian needs in Ethiopia are expected to remain very high throughout the rest of 2016. But UNICEF has ambitious plans to continue and expand its emergency response.
UNICEF is working to give 2.2 million people access to safe drinking water this year.
© UNICEF Ethiopia/2016/Ayene
At 12 years old, Harko should be spending her days learning, playing and enjoying the simple pleasures of being a child. Instead, she walks across scorched plains in search of water for hours on end. She rises to the challenge of this terrible crisis and somehow still has the spirit to laugh.
Harko gives UNICEF the determination to keep working, no matter how hard it gets.
Helping now more than ever
While UNICEF delivers its massive response to the crisis in Ethiopia, our teams are also tackling an unprecedented number of harsh, complex and unrelenting emergencies around the world. Conflict and extreme weather have forced more children from their homes than at any other time since World War II, leaving many millions of children exposed to hunger, violence, disease and abuse.

UNICEF needs you now more than ever. Together we can reach children in Ethiopia and wherever they are struggling through conflict and crisis. We can deliver lifesaving nutrition, clean water and medical supplies, and we can give the world's most vulnerable children a fair chance at a good life. Please give generously to make it possible.
Donate today
Categories:
Geographic Regions: