Syrian Refugee Families Fear Approaching Winter Months
It's hard to believe frigid temperatures are a concern for families in northern Jordan's Za'atari refugee camp.
I was up at the camp last week and it was scorching hot.
Afternoon temperatures were in the mid-30s and the sun's reflection on the gravel ground was blinding. Families stayed in their tents, crowded around water points, or tried to find some relief in tiny slices of shade during the afternoon heat.
But night time in the desert is a different story. Temperatures drop when the sun goes down. Within a couple months the weather in Za'atari could dip below zero. The families I spoke with said they were scared of the fast-approaching cold weather.
Khulood, a mother of seven I met at one of the water taps, was scrubbing mud out of a worn blanket she found lying on the ground that afternoon.
"It's getting very cold at night," she told me. "One blanket is not enough, my children are complaining, I need to do everything I can to keep them warm."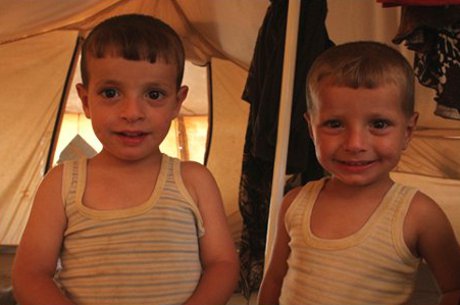 ©UNICEF Jordan/2012/Al-Masri
Two-year-old twin boys Safwan and Omran in the tent they share with their family in the Za'atari refugee camp in northern Jordan. UNICEF is working to ensure children are prepared for winter.
I also saw Maradi again, a mother of two-year-old twin boys Safwan and Omran and six-month-old Sofian. I met Maradi a month ago a couple weeks after she arrived in Za'atari. Maradi told me the children were adjusting to life in the camp but her biggest fear now was winter.
"I don't have any warm clothes for the boys," she said, shaking her head.
The twins were walking around their tent in shorts and cotton tank tops.
It seems particularly cruel that families who have lived through more than a year of deadly violence, have fled their homes, and are living in a harsh tented desert camp are now terrified of the imminent winter months.
But this is reality for families in Za'atari and for the tens of thousands of other families displaced in Syria and across the region.
Preparing these families for winter is critical. UNICEF is now procuring supplies including tens of thousands of blankets, baby blankets and winter clothes for children.

The water teams are working non-stop to ensure families at the very least will have hot showers by installing hot water pipes and large-scale water heaters. The school that opened last week in Za'atari will also need to be insulated so children can continue to attend class.
All of this work preparing for winter is in addition to everything else UNICEF is doing – providing safe places and activities for children to heal from the emotional stress of war, providing water, hygiene and sanitation services, life-saving vaccinations and expanding and running the camp's school.
Every day hundreds of families arrive at the camp with only the clothes they are wearing – with winter approaching, life certainly isn't going to get any easier.
Across the region, 2.5 million Syrians are at risk. UNICEF urgently requires additional funds to meet the emergency needs of a growing number of Syrian refugee children and young people. Help today.
Categories:
Geographic Regions: