Use the Match, Bridge the Gap
Hundreds of children are packed into a community clinic near the city of Katsina, Nigeria, seeking treatment for severe acute malnutrition.
Others sit with their mothers under a tree, the clinic's waiting area. All exhibit the classic symptoms: Some have swollen limbs, a tell-tale sign of protein deficiency. Others have chronic diarrhea and vomiting. But what's different here is that they are receiving help within the community, rather than in hospital.
It's estimated that almost a quarter of a million children in Nigeria are suffering from severe acute malnutrition, a deadly condition.
As a result, thousands of children are now lined up at treatment centres.
These centres offer life-saving relief to parents who, as a result of the devastating food crisis overwhelming the Sahel region, cannot provide their children with adequate nutrition.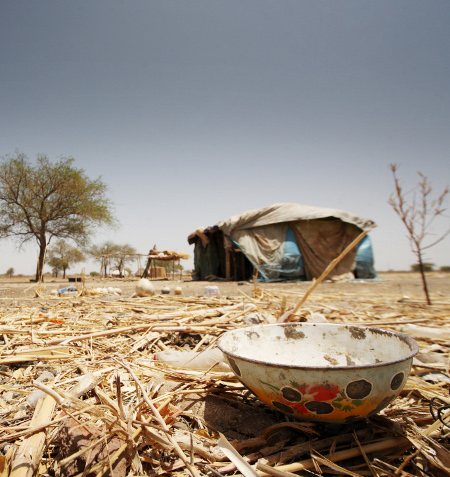 ©UNICEF/NYHQ2011-0459/de Viguerie
Like thousands of other farmers in Nigeria, Lawal Ramatu sells half of what she grows and tries to survive on what remains. But it is not enough – nor does it give her 10-month-old son Saidu, the nutrition he needs – he has just been diagnosed with severe acute malnutrition.
Malnutrition is a major reason why one in seven children in Nigeria won't survive to see their fifth birthday.
Saidu will spend the next eight weeks in treatment, with local community health workers ensuring that his mother brings him to the outpatient therapeutic centre for regular check-ups.
Currently, UNICEF is working to scale-up this program across the north – but a funding gap is limiting these efforts.
Thousands of children are still out of reach. Help us bridge the gap: donate today, and your gift will be matched by the Government of Canada.
Nigeria is Africa's most populous nation. Its nutrition crisis may have failed to capture the headlines, but without your help, the toll could be staggering.
Learn more about the humanitarian crisis in the Sahel, and spread the word for children.
Learn More
Your donation to the food crisis in the Sahel will be matched
In the News
[Globe and Mail] Drought-ridden Sahel on the cusp of crisis as Canada prepares to help
[Globe and Mail] Ottawa to match money raised to aid African region suffering food crisis
Share
Spread the Word for children in the Sahel
Categories:
Geographic Regions: