David Morley: Our President & CEO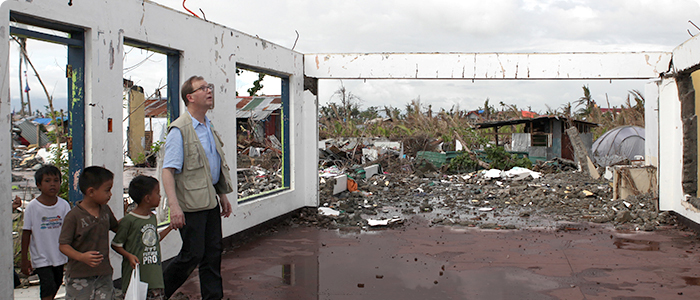 David Morley is President and Chief Executive Officer of UNICEF Canada.
David volunteered with street children in Central America in 1978 and a planned three-month stint turned into a life-long career in international co-operation – a career that has taken him to humanitarian projects in Congo, Zambia, Mozambique, Sierra Leone, Mexico, Dominican Republic, El Salvador, Brazil, Iraq and countless others countries.
From 1980 to 1998 David was Executive Director of Pueblito, a Canadian NGO which promotes the rights of children. In 1998 he was appointed Executive Director of Médecins Sans Frontières/Doctors Without Borders Canada. While he was there, Médecins Sans Frontières, won the Nobel Peace Prize. In 2006, he was named President and CEO of Save the Children Canada, a post he held until he took up his current duties as the President & CEO of UNICEF Canada in 2011.
David served as the founding Executive Director of the Institute for Canadian Citizenship, on the Board of Directors for the Canadian Council for International Co-operation, the Ontario Council for International Cooperation, and the Brazilian-based Abrinq Foundation for the Rights of Children. He is a mentor emeritus with the Trudeau Foundation and currently sits on the Board of Directors of the Stephen Lewis Foundation, Dignitas International, and the Advisory Board of McGill University's Institute for the Study of International Development.
His writing on international issues has appeared in newspapers across Canada and around the world, and he is a frequent commentator on radio and television. Author of two Canadian best-selling books, Under the Tree (co-written with his wife Elizabeth Morley) and Healing Our World: Inside Doctors Without Borders, David has won a number of awards in the United States for his writing.
In recognition of his dedication and work in international development, David Morley has been awarded the Commemorative Medal for the 125th Anniversary of Confederation and the Queen's Jubilee Medal, Carleton University's Humanitarian Alumni Award.