25th Annual UNICEF Water for Life Gala Calgary
Event Representative
Holly Davidson
National Events Manager
Please contact Holly for more information: SEND EMAIL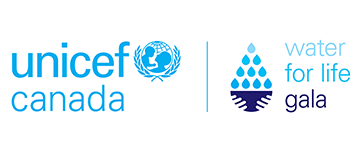 Join us for a special event in Calgary
The Annual UNICEF Water for Life Gala is one of Calgary's premier charity events with a delicious four course dinner, sensational auction items and spectacular entertainment.
Fundraising Theme: Water
Water is an essential right and a vital need and although significant improvements have been made, globally more than 1.8 billion people still lack access to a safe drinking water source. With the generous support of many donors, UNICEF leads innovative initiatives to bring life-saving water to all children.
Event Time and Date
Saturday, October 14, 2017
Location
Hyatt Regency Calgary
700 Centre Street SE
Calgary, AB T2G 5P6
Chair and Patrons
Click to see the list of people »
Honorary Chair
Sue Riddell Rose – President & CEO, Perpetual Energy Inc.
Patron Council
Alister Cowan – Executive VP & CFO, Suncor Energy
Rollie Cyr – Vice President Sales, Calgary Flames
Kent Ferguson – Managing Director, RBC Capital Markets
Leslie L. Fryers, Q.C. – Executive Vice President, Law, Castleavery Merchants Inc.
Anthony Giuffre - CEO & Partner, Avenue Living
Brett Herman – President & CEO, TORC Oil & Gas Ltd.
Amy Johnson – General Manager, Hyatt Regency Calgary
Curtis Lester – Partner, KPMG
Mary Moran - President & CEO, Calgary Economic Development
John Nasser – President, Victory Majors Investments Corporation
Leigh Peters – CEO, L. J. Peters Warehouses Ltd.
Randy Pettipas – President & CEO, Global Public Affairs
Vik Saini – President, Take Flight Group
Geeta Sankappanavar - Co-Founder & President, Grafton Asset Management
Perry Spitznagel, Q.C. – Managing Partner & Vice-Chair, Bennett Jones LLP
Reynold Tetzlaff – National Energy Leader, PricewaterhouseCoopers LLP
Peter Wallis – President & CEO, Van Horne Institute
Penny Whitlock – Community Leader
Goal
To raise $1,000,000 in support of clean, safe water.
How
Tables are available as follows:
Champion $50,000
Innovator $30,000
Protector $20,000
Advocate $10,000
Collaborator $5,000
Contact