Eliminating Maternal and Neonatal Tetanus
What is maternal and neonatal tetanus?
Tetanus is a non-communicable disease caused by bacteria found in soil. In many developing countries women give birth at home without the support of a healthcare worker and without a clean, sterile blade to cut the umbilical cord. This can lead to tetanus poisoning in the newborn baby, causing severe spasms and an excruciatingly painful death. Human contact exacerbates the baby's pain, so a mother's touch hurts, leaving the baby to writhe in agony, unheld, for days until he or she dies.
How can we eliminate it?
Each year 49,000 newborn babies die from tetanus in 18 countries, equating to 134 deaths each day, or one every 11 minutes. How can we eliminate it?
It costs US$ 3.00 to vaccinate each woman of reproductive age. This includes the three vaccines needed for each woman, syringes and safe storage and transportation of vaccines. It also includes training for health workers and community education.
It costs almost $800 to provide health services to each baby once infected, without any guarantee of the baby's survival.
In 2000 MNT was still a public health problem in 59 countries. By October 2016, 41 countries had officially eliminated MNT. The remaining 18 countries are in a position to eliminate MNT within the next few years , but we need your help to do so. Together, we can eliminate MNT in the 18 countries where it is still a public health problem, including: Afghanistan, Angola, Central African Republic, Chad, Congo DR, Ethiopia, Guinea, Haiti, Kenya, Mali, Nigeria, Pakistan, Papua New Guinea, Philippines, Somalia, Sudan, South Sudan and Yemen.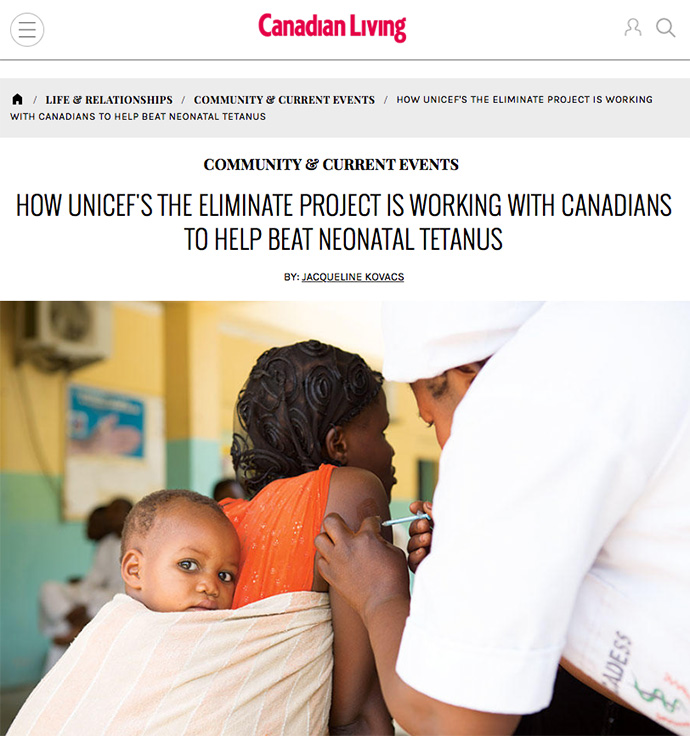 In partnership with the Government of Canada and the Kiwanis Foundation of Canada, UNICEF is helping to eliminate MNT around the world – for good. Take a sneak peek inside our work in Chad with Canadian Living »
Give today, and support eliminating maternal and neonatal tetanus. Over the next 12 months, this project aims to eliminate this deadly disease in Chad, Kenya and South Sudan, and make great strides in Pakistan and Sudan towards elimination. More than 3.4 million women of reproductive age will be reached with vaccinations needed to provide immunity and to save their babies. But we can't do this without you.