Second earthquake strikes Nepal. Children are in crisis.
In just two weeks, two major earthquakes have toppled buildings, destroyed roads and infrastructure and torn families apart. Your gift will help UNICEF respond to the needs of children and families affected by the earthquakes that struck the areas in and around the capital city of Kathmandu in Nepal.
Stories from Nepal
Rose Foley, UNICEF Nepal
"We dived under tables in the UNICEF building as it rocked from side to side. The shaking seemed to go on and on. We got out to safety as soon as possible. Sitting out in the open it felt like I was on a boat on rough seas as aftershocks hit. We are thinking of every child in Nepal who has already been through so much. We are very concerned about the impact this new quake could have on children who are already very vulnerable. 1. 7 million children are in urgent need of humanitarian assistance after the April 25 earthquake - requiring clean water, shelter, sanitation. UNICEF has been working round the clock to get life-saving aid to children since the first quake hit - including tents, safe drinking water, hygiene kits, medical supplies and vital counseling to help children come to terms with their experiences. We have teams on the ground in every affected district. Our focus is now on how children may have been impacted by this new earthquake - both in terms of their immediate humanitarian needs and the devastating emotional impact that this new shock could have. UNICEF will do everything possible to keep children safe.
Kent Page, UNICEF staff
"I was with Reuters TV just a little while ago filming assessment of school damages before schools reopen on 15 May - assessing for safety and damage. We were all inside the school building at the time when there was a loud noise as the building started violently shaking. It took a second or two to realize what was happening but then we ran for the door. We gathered quickly outside in a small courtyard and the violent shaking continued and didn't stop for perhaps a minute, but it seemed much longer. We all thought the buildings around us were going to collapse and gathered in the center of the small courtyard in a kind of semi-circle. The Reuters TV cameraman continued filming throughout and is filing the story now. Fortunately the earthquake finally ended – it is a terrifying experience – and the buildings did not fall down. Everyone was safe and accounted for, though of course shaken. I conducted two interviews in the courtyard with Reuters and then we went back to the school we had been to previously by foot because we had met some children there. While walking a follow-up aftershock happened. Fortunately, they had left the school before the earthquake hit and we believe they are all safe."
UNICEF has been in Nepal for nearly half a century, and we currently have more than 200 staff on the ground working to deliver essential, life-saving supplies and services to affected children and families.
With our experience and track record in the country, we are poised to leverage local networks, partnerships and relationships to access communities and resources to maximize our reach and impact for those most affected by this crisis.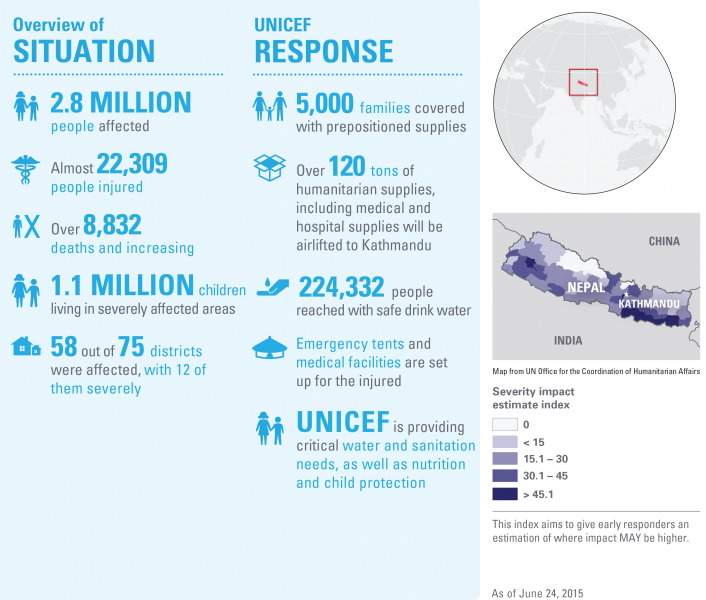 UNICEF's work in Nepal
Orlando Bloom urges for your support
News on Nepal