Famine declared in parts of South Sudan
Hunger crisis puts South Sudanese children in danger
Conflict, economic crisis and depleted stocks from the recent harvest have resulted in life-threatening levels of food insecurity in South Sudan, resulting in the declaration of famine in parts of the country. Today, an estimated 270,000 children in South Sudan are suffering from severe acute malnutrition, part of a regional crisis of 1.4 million children in need of life-saving help.
Why is South Sudan facing famine?
Years of violence and conflict
Inflation
Severe dry season
These circumstances have displaced families and created a humanitarian catastrophe for children. Children who have been forced to flee the conflict areas are at severe risk of malnutrition and starvation, and are left with little to eat. They have no access to clean water and are at risk of contracting water borne illnesses. In recent months their very limited food sources have been depleted.
An estimated 4.9 million people are severely food insecure—meaning they don't have access to enough nutritious food—in South Sudan and it is projected to increase to 5.5 million people – almost half the national population. The magnitude of these food insecurity populations is unprecedented.
The most affected population is likely to include displaced households, those who are attempting to return and low income earners. As well, previously prosperous households are no longer able to cope after enduring years of conflict and inflation. Having depleted their assets, they too have become vulnerable.
UNICEF's Response to the Famine Crisis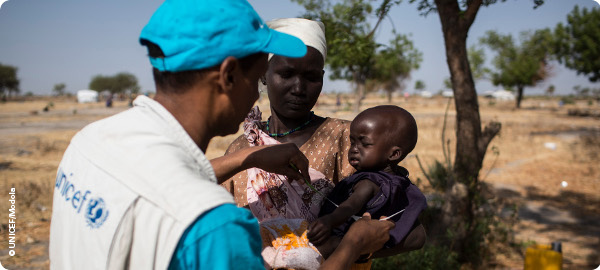 In areas affected by food insecurity and cut off from humanitarian assistance, UNICEF, in collaboration with the World Food Programme and partners, are working to reach the most vulnerable children with acute malnutrition. This is being done through Rapid Response Missions and efforts to re-establish services in areas with relative calm. Further missions are planned in the coming days and weeks to address the nutrition crisis.
UNICEF is treating more severely malnourished children than ever before. In 2016, more than 180,000 severely malnourished children under age five were admitted to UNICEF-supported programs.
Securing immediate access to basic health services, adequate treatment and care for those suffering from trauma/injuries caused by conflict and for the acutely malnourished people is also of utmost importance and UNICEF is working around the clock to save lives.
How you can help: support UNICEF's humanitarian aid efforts
By giving a donation to UNICEF Canada's fund for the famine, you will allow us to place funds and deliver supplies where they are currently the most needed in South Sudan and neighbouring countries at risk like Nigeria, Somalia and Yemen.
Donate today »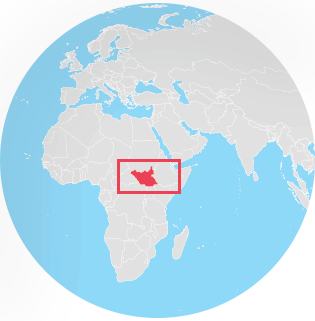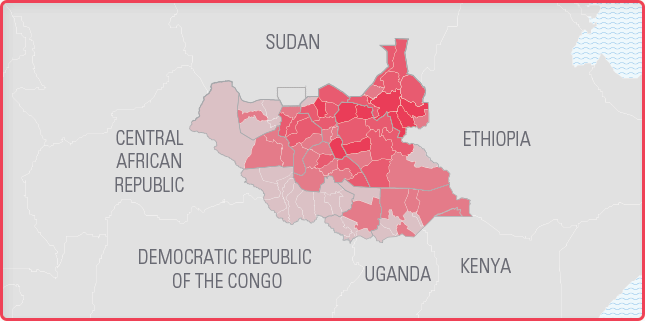 ---
SEVERITY
---
| | |
| --- | --- |
| | Severe |
| | |
| | Moderately Severe |
| | |
| | Low Severity |
---
FAMINE FACTS
---
Displaced:
1.85 million people have been displaced from their homes
Refugees:
1.4 million South Sudanese refugees in neighbouring countries
Malnutrition:
279,000 children in South Sudan are estimated to be suffering from severe acute malnutrition
---
UNICEF RESPONSE
---
Child protection:
64,839 children were reached with UNICEF child protection support programs
Vaccine:
6,156 women and children received life-saving vaccines
Therapeutic food program:
180,000 severely malnourished children under age five were admitted to UNICEF-supported outpatient therapeutic program
Page Last Updated: March 24, 2017