Child Rights Impact Assessment Symposium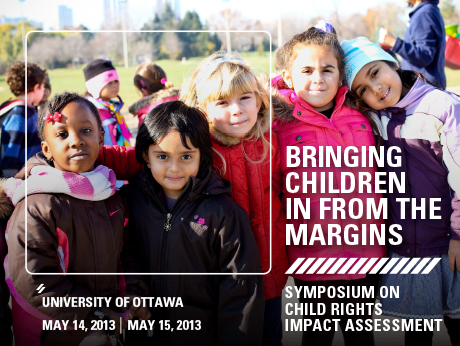 The first gathering of international experts on the emerging practice of Child Rights Impact Assessment took place May 14-15 in Ottawa, Canada. This symposium gathered Canadian policy makers, academics, students and members of civil society to explore the growing use of Child Rights Impact Assessment as a tool for improving child well-being. International experts from government, Children's Commissioners and researchers from more than eight countries shared insights about the approaches, institutional conditions, benefits and challenges.
The well-being of children is significantly influenced by government and institutional policies, legislation, the allocation of resources, programs and services, and administrative decisions. But the interests of and impacts on children are often overlooked in governance processes. Building child-sensitive governance approaches is gaining momentum in Canada and around the world.
The primary objectives of the symposium were to:
Share knowledge and good practices in the development and implementation of Child Rights Impact Assessment, at all levels of government, domestically and internationally;
Identify lessons and opportunities for the incorporation of new tools into public policy processes;
Develop a community of practice to encourage ongoing multidisciplinary exchange.
More than 140 participants learned about and shared emerging research and practice to improve outcomes for children, in a multidisciplinary community.
The symposium was organized by the Canadian Coalition for the Rights of Children, UNICEF Canada, the Interdisciplinary Research Laboratory on the Rights of the Child and the Human Rights Research and Education Centre of the University of Ottawa, and the New Brunswick Office of the Child and Youth Advocate.
Watch this space for reports and presentations posted from the symposium.
The conference featured
Internationally recognized keynote speakers and expert presenters
Q&A panel sessions
Breakout workshop sessions
Resource tables
Informal reception
Participants included
Policy Makers, Program Design/Developers and Practitioners (all levels of government)
Parliamentarians and Legislators
Child-focused professionals in all sectors
Public policy and legal professionals
Public institution administrators and trustees
Government representatives
Researchers
Municipal leaders
Aboriginal leaders
Community committees
University students
Panel Presentations
Panel 1: Child Rights Impact Assessment: A tool for advancing children's rights
Keynote Speaker: HODGKIN_Rachel_ChildrensRightsAdvocate_KEYNOTE
1. PAYNE_Lisa_UNICEFUnitedKingdom
2. CORRIGAN_Carmel_IndendentResearcher
3. MASON_Nic_UniversityofAucklandNZ
4. HORGAN_Goretti_UniversityofUlster
Panel 2: Impact Assessments in Canada: Lesson and congruencies
1. McGUIRE_IVES_Lara_OfficeofthePrivacyCommissionerofCanada
3. REASON_Vincent_TablerondedesOVEPdelOutaouais
4. GREENWOOD_Dr.Margo_NationalCollaboratingCentreforAboriginalHealth
Panel 3: Child Rights Impact Assessment: A growing global practice
1. SWAIN_Martin_WelshGovernment
2. DESMET_Dr.Ellen_GhentUniversity_UniversityofAntwerp
Panel 4: Child Rights Impact Assessment in Canada Opportunities and entry points
1. CORMIER_Hubert_ProvinceofNewBrunswick
2. KWONG_Shelley_TheCityofEdmonton
Workshop Series Presentations
COLLINS_Tara_RyersonUniversityWKSHP
CORRIGAN_Carmel_IndependentResearcherWKSHP
DESMET_Tam_GhentUniversityUniversityofAntwerpWKSHP
MCCART_StudentsCommissionWKSHP
NOEVA_Rada_UNICEFHQGenderandRightsWKSHP
PAYNE_Lisa_UNICEFUnitedKingdomWKSHP
PEARSON_Hon.Landon_Carleton_COLLINS_Tara_ RyersonWKSHP
SCHMIDT_Michael_ UniversityofMemphis_COFFEY_Julie_BuildingBrightFuturesWKSHP
SCHURY_Roxane_SaskatchewanMoJWKSHP
SEDLETZKI_Vanessa_RightsOnWKSHP
SWAIN_Martin_WelshGovernmentWKSHP
We are grateful for the contribution provided by the Social Sciences and Humanities Research Council of Canada.
We acknowledge the financial support of the Department of Canadian Heritage for simultaneous interpretation.