Bringing peace to children's minds in Central African Republic
By Laurent Duvillier

BOSSANGOA, Central African Republic – Like most children, 13-year-old Felicia loves to draw. But her drawings are not the usual happy scenes of school and family and friends. In vivid colours, she draws a man lying on the ground dead, houses burned down, and men carrying weapons. For a young girl forced to flee for her life several times in recent months, the memories of violence are still fresh.

"We were inside the house with my parents when 'they' broke in with guns," says Felicia. "My heart got 'warm'. They dumped the dead bodies in front of our house. There were my neighbours. I knew them. It hurts me. When we ran away in panic, we were separated and my uncle was killed."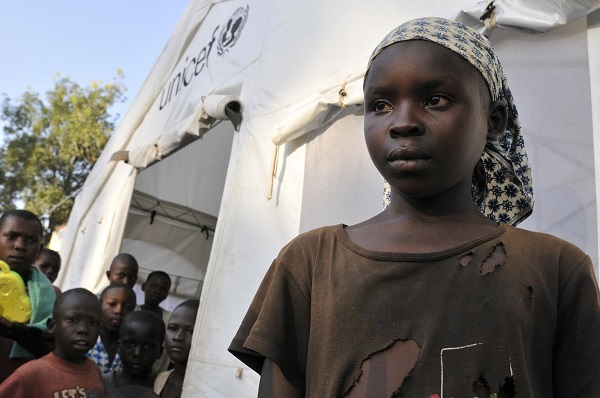 © UNICEF Central African Republic/2013/Duvillier
At home, we don't talk about what happened
For weeks, Felicia and her family was hiding in the bush along a river, but renewed clashes forced them to flee once again in September.
When Felicia and her family eventually arrived at the displacement site, her 2-month-old sister was suffering from vomiting and diarrhoea. She died shortly after. Felicia believes that the water they drank in the field was not safe and made her little sister sick.

"I don't have nightmare," said Felicia who is dressed in rags. "But when I think about it, I see images and I start crying. When I arrived here, I knew nobody. Then I met educators at the UNICEF tent. Now I consider them as my peers, my friends. I know I can talk to them. I know they listen to me. At home, we don't talk about what happened."
Since March 2013, when rebels took the capital, Bangui, some 370,000 people have been uprooted by violence and insecurity. Around 785,000 people have been internally displaced throughout the country.
Exposure to violence, displacement, loss of and separation from family members all significantly impact the psychosocial well-being and development of a child. Art and recreational activities such as drawing and sports can help children affected by violence express their feelings and cope with the distress they have been through.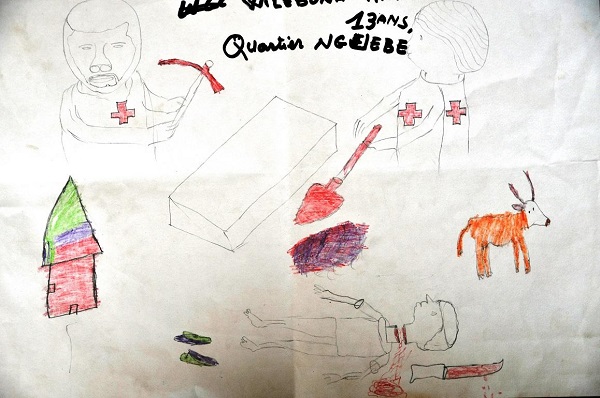 © UNICEF Central African Republic/2013/Duvillier
Two children-friendly spaces for displaced children
UNICEF teams on the ground set up two 'child-friendly spaces' in two displacement sites in Bossangoa where children can play, get involved in recreational activities and receive psychosocial care in an environment where they can feel safe, supported and protected.

"When the children first come to the UNICEF space, they tend to isolate themselves, some curl up under the mango tree," says Pelagie, 20, one of the eight volunteer educators from Caritas trained by UNICEF. "They look sad and don't want to interact with other children. Then they start opening up. I play and dance with them. They trust me. I am a child like them. I am also displaced. I have the same stories. We saw the same atrocities."
Bringing peace in children's minds
Through UNICEF-supported child-friendly spaces, up to 600 boys and girls who fled their homes in Bossangoa and neighbouring villages are beginning to regain a sense of what it's like to be a child again. Every child has a right to play and have a safe childhood free of violence. UNICEF is currently planning to strengthen its interventions by sending more specialists in post-trauma management to affected areas.

"Sadly, children's drawings suggest they have been deeply affected by the conflict," said Jean Lokenga, UNICEF's Chief of Protection in Central African Republic. "Many displaced children have witnessed violent incidents and it's still in their heads. It's not good to keep these feelings bottled up. If not addressed immediately, the long-term impact of their exposure to traumatic/distressing events can be huge."

Pelagie, UNICEF-trained educator adds, "there might be little I can do to bring peace to my country. But, there is so much I can do to bring peace in children's mind."
You can support children like Felicia by donating to UNICEF's Emergency Fund.
Categories:
Geographic Regions: