Crisis in Aleppo: Winter is the latest threat to children in conflict-ridden Syrian city
Donations urgently needed due to the escalating situation in Aleppo. Please donate today >>
As people continue to flee the besieged Syrian city of Aleppo, UNICEF is working to reach displaced families with the supplies they need to survive the brutal winter. Some children have lost or become separated from their families, leaving them even more vulnerable.
Just days ago, 10-year-old Ahmed arrived in Jibreen, an industrial district on the outskirts of Aleppo. Ahmed's parents were killed in the vicious conflict engulfing the city. He and his four siblings have nobody to take care of them and help keep them warm.
Around 6,200 people who fled fighting in east Aleppo are now sheltering in a barren former warehouse in Jibreen, gripped by the cold.
Worry and fatigue are clearly visible on Ahmed's face. His hands are calloused and his clothes torn. Like many children in the shelter, Ahmed spends much of his time collecting firewood to keep warm. Weakened by the cold, even this simple task is exhausting.
"The winter months are even more brutal for children inside Syria," says Hanaa Singer, UNICEF Syria Representative, who just returned from Aleppo. "I saw children who fled their homes with nothing but the clothes on their back. After the horrors they have lived through, now they have to cope with the piercing cold," she added.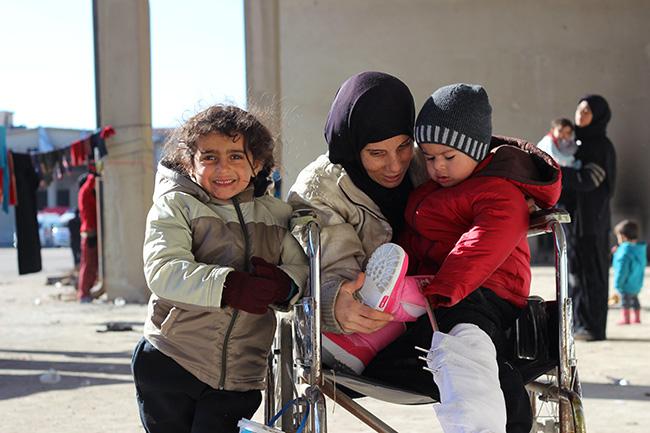 The journey to Jibreen was gruelling for five-year-old Rahaf, her two-year-old brother Wael, and their mother, who fled their home in east Aleppo. Their mother, a widow who suffered a shrapnel wound on her leg, had to wheel her children for hours until they could be transported by bus to the Jibreen shelter.
"My neighbours told me that everyone was leaving the area. I grabbed my two kids on my wheelchair and moved out of my apartment," the mother said. "It was extremely difficult. My neighbours helped me to get into a bus. It is hard to believe that I was able to get out, and that my two children are still alive."
For children already weakened by months of undernutrition and lack of health care, the cold weather can quickly lead to respiratory infections, hypothermia and other potentially fatal health complications.
More than 5,000 children in the Jibreen shelters have now received UNICEF winter clothing kits.
A smile lit up Ahmed, Rahaf and Wael's faces when they saw a box full of warm jackets, trousers, jumpers and shoes. Ahmad was not sure if the clothes would fit him, but shared another radiant smile when he realized that the clothes were exactly his size.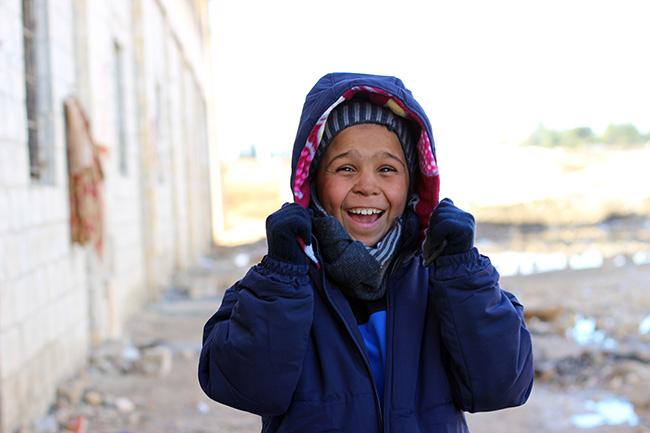 Ahmed, is one of 64 unaccompanied and separated children identified by UNICEF in the shelter. Alternative care arrangements have been put in place by local partners for children like him. A dedicated social worker regularly visits Ahmed and the other separated children in the shelter. Ahmed also participates in psychosocial support activities, designed to help children cope with the horror and trauma they have been through. During these activities, they find a moment to play, sing, and be children again.
UNICEF and partners are working around the clock to respond to the needs of those who have fled recent fighting, as well as some 400,000 people who have been displaced across Aleppo since the beginning of the conflict.
This includes trucking 6 million liters of water a day to the most vulnerable families, including both displaced people and host communities in Jibreen and Hanano. Nearly 10,000 children and mothers have received polio, tetanus and other critical immunizations. Malnutrition screenings and treatment continues in shelters for displaced people, at primary health care centres and through door to door mobile teams. Hygiene awareness and clean-up campaigns are ongoing in the shelters in Jibreen.
"The response can never be enough for children who have lived through nearly six years of conflict," said Singer. "We need immediate and sustained access to reach the most vulnerable children who remained trapped in eastern parts of the city and the other besieged areas in Syria."
By Shushan Mebrahtu and Basma Ourfali
UNICEF is responding to this crisis both across the region in neighbouring countries and with more than 200 staff inside Syria who are reaching the most vulnerable children with health, education and protection programs.
Please support UNICEF's life-saving work with children and families affected by this crisis by donating here.
Categories:
Geographic Regions: