Nepal earthquake: one year later families are building back their lives
On April 25, 2015, a devastating 7.8-magnitude earthquake struck Nepal - toppling buildings and shattering lives. Children and families scrambled to cope in the aftermath as UNICEF and partners rushed in life-saving supplies. Just as survivors started to regain their footing, the earth shook again on May 12 as a 7.3-magnitude quake claimed more lives.
In total, nearly 9,000 people lost their lives, 22,400 were injured and more than 850,000 houses were destroyed or damaged.
But families had to find the strength to move on. Roughly 1.1 million survivors (40% of the affected population) were children in need of urgent aid.
UNICEF stepped up to help – and so did Canadians coast to coast to coast. We saw an incredible outpouring of support that enabled us to lead relief and recovery efforts in nutrition, water, health, child protection and education.
On the one year anniversary, we thank you for supporting the children of Nepal. When times were darkest, your support shed light on the long path ahead.
Here is what we accomplished in the last year together for Nepal.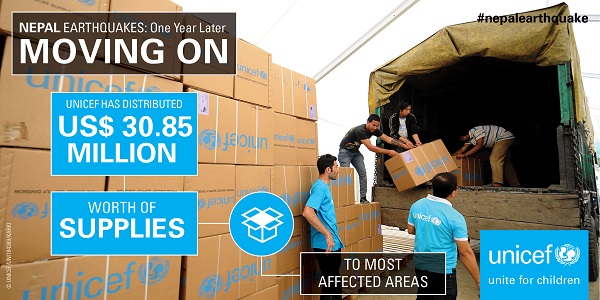 USD $30,850,000 worth of urgent, life-saving supplies were quickly distributed to the children and families who needed them most.
537,081 children under five years of age were vaccinated against measles, rubella and polio.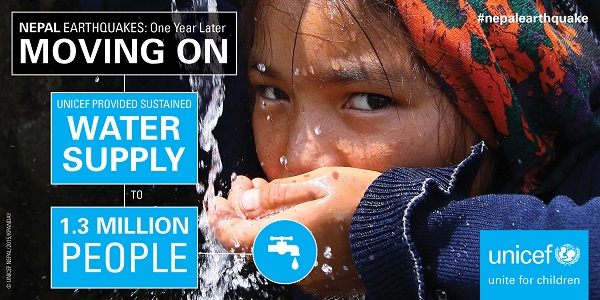 1.3 million people had access to safe water – a life-saving essential in any crisis.
890,589 people received hygiene kits and key information on good hygiene to prevent illness and disease.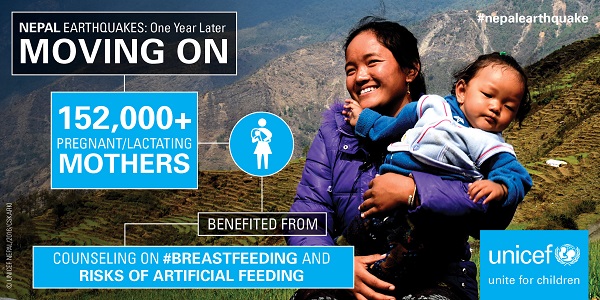 152,000 new mothers received breastfeeding support to give their little ones a healthy start in life.
11,333 pregnant and postpartum women were given access to transitional shelter homes.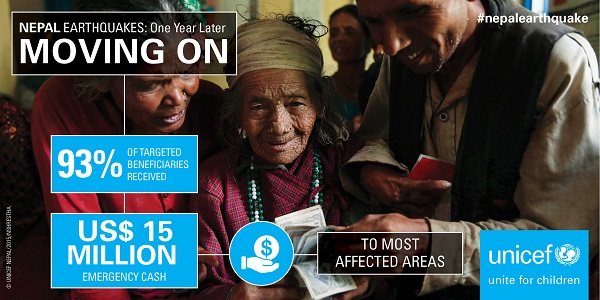 $15 million in emergency cash transfers were given to 435,000 vulnerable families struggling to survive.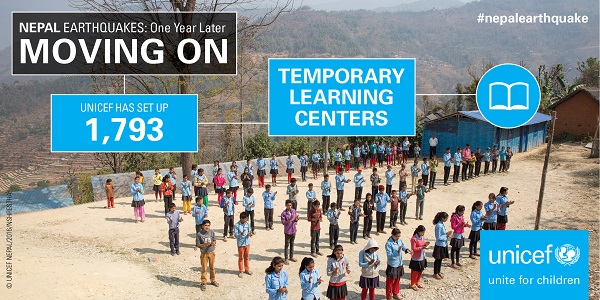 1,793 Temporary Learning Centres helped children learn, play and heal.
881,000 children received education supplies 8,125 teachers were trained to give psychosocial support and life-saving information for children.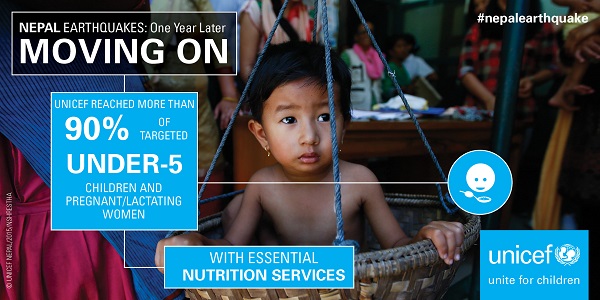 373,546 children aged six to 59 months were screened for malnutrition.
We know that many challenges remain for children and our work is far from over in Nepal. But in the coming months, UNICEF will:
build 74 earthquake resistant and fully equipped health facilities;
assess and rehabilitated 3,000 water projects to provide safe water
build 800 semi-permanent school structures with two classrooms each
ensure school safety is part of the new education sector plan
organize cash transfers to families, helping an estimated 250,000 children under five years of age in the 11 most earthquake-affected districts
Together, we will build Nepal back better.
Categories:
Geographic Regions: