Donate to help children in Syria

UNICEF is one of the most active charities providing aid in Syria. Donate today to help Syrian children – your gift will be going directly to the Syria Emergency Fund.
The war in Syria continues to affect an entire generation of children. 5.3 million children in Syria are directly impacted by the conflict as well as another 2.7 million children currently registered as refugees living outside Syria. Camps have become homes, life before war is only a memory.
The Syrian crisis continues to put children in danger
The violence and continued displacement is putting Syrian children in danger. Risk of being injured or separated from their families, lack of basic needs and medical attention are all concerns facing the people of Syria right now.
Donate to the Syria Emergency Fund »
"Humanitarian assistance and protection are not a privilege nor a luxury; they are a fundamental right of every Syrian boy and girl. Facilitating timely, quality and at-scale humanitarian assistance through whichever means possible across the lines of fire and from neighbouring countries is the minimum we owe these children. If we collectively fail that duty, children will continue paying the heaviest price of a war not of their making. Putting the world to shame." Geert Cappelaere, UNICEF Regional Director for the Middle East and North Africa
A story from Aleppo: a boy's unwavering determination to live a full life even after a bomb left him unable to walk
The offensive on Daraa city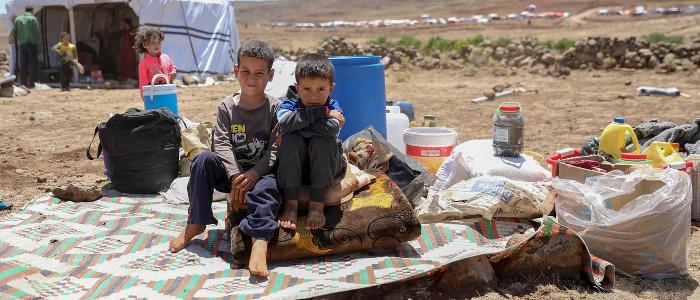 Families fleeing the surge of violence in Daraa have no other choice but to set up makeshift tents on the southwestern borders of Syria. The escalating hostilities in southwest Syria are endangering an estimated 750,000 people – almost half of them children. The recent violence has also reportedly displaced over 45,000 people.
How donors are helping Syrian children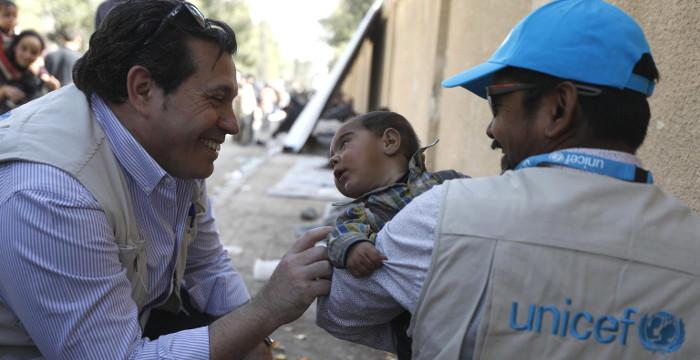 UNICEF is working in the regions affected by conflict and also building infrastructure within the refugee camps. With donor support and in partnership with other organizations UNICEF is:
increasing access to safe water
creating alternative education opportunities for out-of-school children
building health programs for mothers, children and expectant mothers to help treat and prevent malnutrition
UNICEF and partners are also providing psychosocial support and raising awareness on the dangers of unexploded remnants of war to help children heal from the impact of what they've seen thus far during the war; and also help them avoid being severely injured as they move about the streets.
A map of Syria