Madagascar is a tropical island off the coast of Africa with beautiful surroundings. It is also a country that is facing immense challenges; it remains one of the world's poorest countries with 91 percent of the population living with under $2.00 a day. Madagascar is also facing major constraints in primary education as for every 100 children who enter the first grade, only 60 will complete the full five-year cycle. The average Malagasy adult completes only 4.4 years of school. This low completion rate is a direct result of a lack of capacity: Madagascar does not have enough trained teachers and it does not have enough classrooms. For many children this means that they will never set foot in school. Education is the key to alleviate the cycle of poverty and propelling country forward. Yet, the lack of trained teachers, lack of classroom capacity, remote locations of schools, inadequate infrastructure and natural disasters prevent children from completing an education.
2005
UNICEF first met Dorlys in 2005 in Zafimahavory, a small village in Madagascar on the day she was about to start her first day of classes. While she was very happy she was going to school, she wasn't happy with the long walk. Each day, she would walk four kilometers, approximately one hour, with her friends to get to school. There were times when they were running late, they would need to run to make it on time.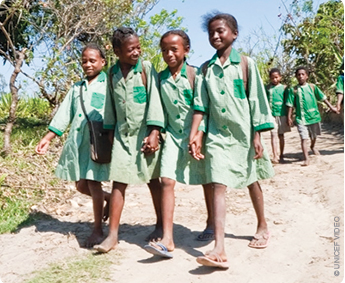 As the school year progressed, a few of her friends would stop going to school because of the long walk. Dorlys was determined to continue her education so she continued the four kilometer walk. Luckily, Dorlys' parents supported her decision to attend school and hoped that she will go far in her education as they understand that education has many benefits.
Safety was a big concern. Four kilometers is a long way to go especially when they have to cross a river and go through a forest where thieves are said to be hiding. "Nothing has happened so far, but we are always worried," said Dorlys' dad. "Imagine if there was a school in this village: there are many children here, and I am sure that almost all of them would attend. They would not have to walk so far to school, so they would not be tired when they arrived, and that would mean better results. It would also mean fewer would drop out. For parents, it would mean we could relax. Our children would have more time to help us at home, and we would no longer have to worry about their safety. That would be marvelous!"
UNICEF followed Dorlys through the years documenting her development and collecting learnings on how to improve access to education in Madagascar.
In 2010, UNICEF constructed a school in Dorlys' village, with spacious classrooms, latrines and portable water points. New teachers also came with the new school who were well prepared and motivated to teach. Dorlys was one of the first pupils to study in the new buildings and one of the first pupils to complete the fifth grade exam and continue on to secondary school.
2015
"I am now in the ninth grade," says Dorlys. "I am also a member of the Francophone Club and participate in sport activities, and every evening I attend catch-up classes to help me be ready for the next exam. I believe that studying is the nicest inheritance. Those who study succeed!"
UNICEF is able to support the determination of children like Dorlys because of generous donors like you.
In 2015 Dorlys is 18 years old and a successful secondary school student in Madagascar. That was made possible thanks to her hard work and the support of her family, but also thanks to donors like you that allowed UNICEF to build and equip a bright and spacious school in Dorlys' village.