2016 UNICEF report on child well-being
UNICEF Report Card 13: Fairness for Children, released in 2016, measures the depths of inequality in children's well-being across the richest countries.
The UNICEF Index of Child Inequality reveals how far rich countries allow their most disadvantaged children to fall behind the 'average' child in aspects of health, education, income, and life satisfaction.
How does Canada rank?
Canada is one of the more unequal societies for children and youth, ranking 26th of 35 nations. Over the past decade some of the gaps in health, education and other aspects of their lives have widened, while others have remained stable or improved. In the international "olympics" of child well-being, there isn't much to celebrate – but the podium isn't out of reach.
The swirling debates about income and poverty in Canada have largely overlooked the impacts on children. In the report, Fairness for Children: Canada's Challenge we show that children's experience of inequality is magnified. Affluent nations with wide inequality tend to have poorer child health, worse child life satisfaction and fewer children achieving in education. But inequality limits the potential of children broadly – not only those who fall farthest behind. So if we close the inequality gaps between children in the middle and those at the bottom, overall child well-being should improve for all of Canada's kids.
Next steps
There are clear policies and actions that Canadians can take to both close the gaps and boost the well-being of all children. Canada is on the right track - investing more and earlier in children, better monitoring and data collection, and putting policies in place that support equitable services and outcomes for all children will help us to even the odds.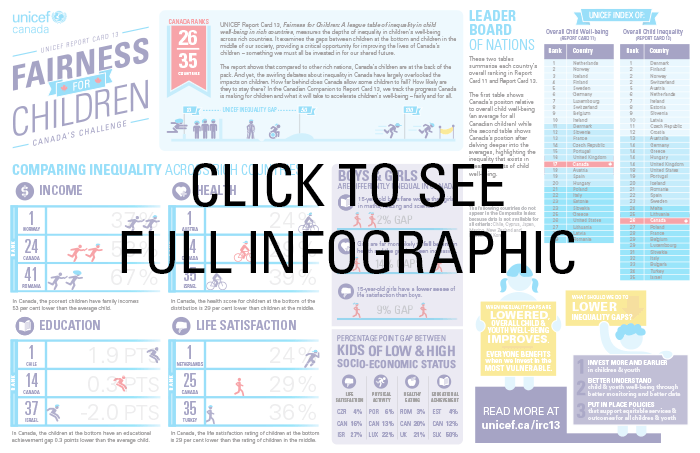 LEARN MORE
UNICEF Report Card 13
Canadian Companion
Canada Infograph
Canada Summary
A Youth Perspective
UNICEF Office of Research-Innocenti Background Papers
Spread the word with social media using #FairnessforChildren
IN THE MEDIA
Press Release for Report Card 13
OTHER INFORMATION AND RESOURCES
Growing Up Unequal: Global HBSC Survey 2016
Canadian HBSC 2016 report
Miles Corak
Income Inequality: The Canadian Story