Global Classroom
The Global Classroom is UNICEF Canada's program to support and expand teaching and learning for global citizenship and rights respecting education through a children's rights approach.


It is through global education that children learn about the world around them and their place in it. They learn about rights and responsibilities and the effects their actions can have. They explore local to global issues and begin to see themselves as responsible, active global citizens.
UNICEF Canada's Global Classroom programming:
Inspires Canadian teachers and their students to take action on social justice, humanitarian issues and human rights – especially the rights of all children.
Empowers Canadian schools to adopt whole-school approaches to rights respecting education.
Provides educators with classroom-ready resources and engagement tools.
Partners with Faculties of Education to inspire future rights respecting educators.
Collaborates with a variety of organizations within the education sector to promote an approach to education that upholds and protects the rights of all children.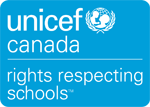 UNICEF Canada's Rights Respecting Schools initiative uses the Convention on the Rights of the Child as a basis for building an inclusive and respectful school culture.