A Children's Commissioner
UNICEF Canada welcomes a new Bill, "An Act to establish the Office of the Commissioner for Children and Young Persons in Canada" . The Bill calls for the creation of an independent Commissioner for Children and Young Persons in Canada to advocate on their behalf when government decisions affect their lives.
An independent national Commissioner will help make Canadian children healthier, better protected from abuse and violence and more prepared to learn.
Currently Canada's child poverty rate is higher than the national poverty rate and some of Canada's fundamental child well-being indicators rank well below the average of other industrialized countries.
At the federal level there is no office, committee or minister responsible for considering the impact laws, regulations and programs have on children, even though many directly impact their lives including; marriage and divorce laws, criminal justice, immigration, social transfers, financial and employment, and policies impacting Aboriginal children. An independent national Commissioner would work across federal departments and with provincial and territorial Child and Youth Advocates to make Canadian laws, policies and programs work better for children.
Canada is one of the few countries in the industrialized world that lacks an independent national advocate for children.
UNICEF believes a strong economy and healthy society can only be built on strong and healthy children – and that Canada's 7 million children and youth are a common concern for all parliamentarians. UNICEF is optimistic support for an independent national Commissioner will cross all party lines.
For more information, please visit our Say our Children Matter site.
Say our children matter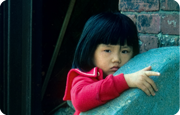 Who is responsible for protecting the rights of Canada's 7 million children? No one. It's time for a National Children's Commissioner.
Categories:
Geographic Regions: