A Sustainable Solution in Mogadishu
Until recently, the simple act of preparing a meal for their families was placing girls and women in Mogadishu at extreme risk. In order to cook, they had to venture outside the city into the forest to collect firewood.
"There are not alternatives for me. I must go to the bush where they are hidden – the militias – to collect firewood, as I have to cook three times a day for my brothers and father," said a 13-year-old girl. "I will never allow my brothers to collect wood, because they can be killed."
To reduce families' need for firewood, UNICEF Somalia is supporting an initiative providing fuel-efficient stoves to displaced girls and women throughout Mogadishu. These projects will both reduce girls' vulnerability to assault, and free up their time – enabling them to return to school.
The clay stoves use waste products such as maize husks as an energy source, eliminating the need to collect firewood. More than 26,000 stoves are being distributed to vulnerable families.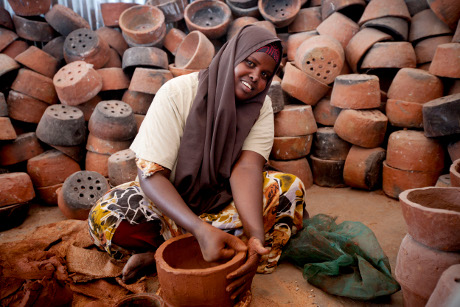 © UNICEF/NYHQ2012-0666/Holt
UNICEF designed these projects to protect children and women, but they have had the added benefit of providing more than 150 families with an income as stove producers.
Anisa, a single mother of three, lives in the Siliga displacement camp. She participated in a stove-making workshop and now earns an income as a producer.
"This has given me hope of making a decent livelihood in future," she said. "My daughter and I will not be going to the bushes to collect firewood anymore."
"Before this training I was just a casual labourer at various construction sites," said Abdi Abdulla, a father of two who has also benefited from the training program. "Some days I did not get any casual employment and that meant my family had nothing to eat for that day."
The program is an example of UNICEF's commitment to creative, sustainable, low-cost solutions.
"My expectation in life has been rekindled. Through this training, I had an opportunity of getting lifetime skills that will help me raise my family comfortably without having to worry about what they will eat for the day."
Adapted from text by Silje M. Heitmann.
Innovation Is:
The cultivation, identification and harnessing of great ideas. UNICEF does just that. We take the best of the best, nurture their development, and transform them into life-saving solutions that benefit the world's most vulnerable children in the world' most remote and hard-to-reach places.
More in this Blog Series
Texting the Way to Better Child Health
Mobile Phone Technology Helps Children Map the Change They Need
Categories:
Geographic Regions: