Ambassador Newsletter
Jackie Chan's Mission to Myanmar
UNICEF Goodwill Am-bassador Jackie Chan visited Mayanmar in July to raise awareness about child trafficking. The celebrated actor and martial arts talent was met by hundreds of people cheering him along.
"Trafficking and exploiting children are horrific crimes," said Mr. Chan. "They leave lifelong scars and rob children of their childhoods. Children are not for sale. For the sake of the world's children, we must work hard to stamp out these damaging and criminal practices."
While in Myanmar Mr. Chan met with vulnerable children, and discussed how to effectively combat trafficking with local officials.
Ewan McGregor's Cold Chain Mission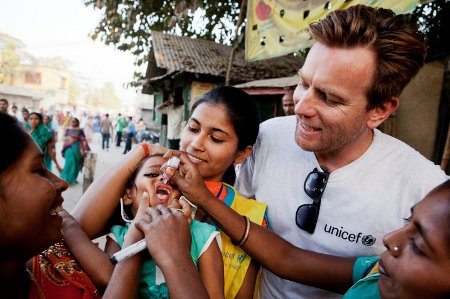 © UNICEF/2011/Rajiv Kumar
In a BBC documentary, UNICEF UK Ambassador Ewan McGregor travelled with UNICEF to immunize some of the world's hardest to reach children.
Mr. McGregor followed three of the world's toughest Cold Chains through bustling cities in India, the isolated wilderness and Himalayan Mountains of Nepal and up the mighty Congo River into the jungle of the Congo. Vaccines must be kept constantly cold in order to work. UNICEF is the world's largest distributor of vaccines.
Solange Tuyishime in Haiti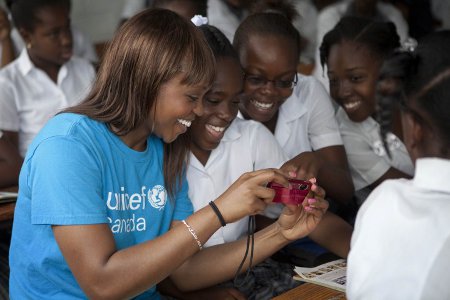 © Marco Dormino
UNICEF Canada Ambassador and Rwanda genocide survivor Solange Tuyishime travelled to Haiti to witness UNICEF's work there. Her trip included visits to UNICEF-supported schools and a UNICEF nutrition centre.
"I certainly come back with even more gratitude for everything I have in my life, including my UNICEF family, and I am even more motivated and in-spired to do more and work harder so that UNICEF can continue to support our chil-dren around the world," said Ms. Tuyishime.
Change for Good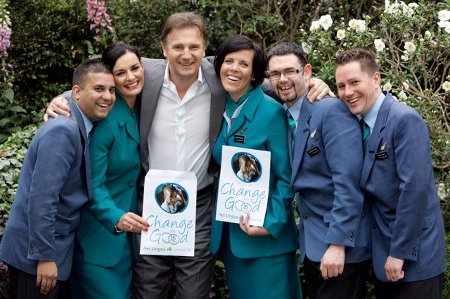 © Mark Steadman / Photocall Ireland
UNICEF Goodwill Ambassador Liam Neeson helped celebrate the 15th Anniversary of the Aer Lingus and UNICEF partnership by meeting with their management, staff and crew.
Change for Good™, the in-flight collection of foreign notes and coins on all long-haul Aer Lingus flights, supports UNICEF's global mission for children and has raised around US$ 15 million to date. Mr. Neeson was the face of the Change for Good campaign for ten years.
#SahelNow: Using Social Media to Save Children's Lives

In April, UNICEF launched a social media campaign to raise awareness for the nutrition crisis in the Sahel region of West and Central Africa.
A huge thanks to our UNICEF Ambassadors who played a large role spreading the word during this campaign and who continue to do so. Many Ambassadors, including Amitabh Bachchan, Mia Farrow, Danny Glover, Selena Gomez, Angélique Kidjo, Lang Lang, Ewan McGregor, Rory McIlroy, Leo Messi and Shakira provided support through their social media platforms and video appeals.