Back to school after Typhoon Haiyan: Michel's story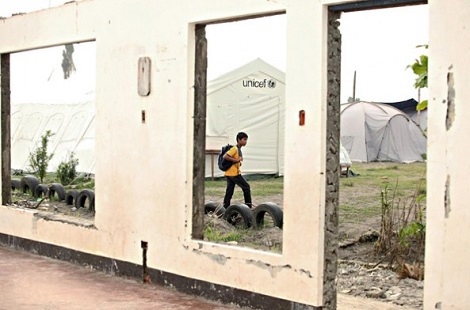 Like millions of children in the Philippines, 13-year-old Michel's life was turned on its head when Typhoon Haiyan hit the country in November. His neighbourhood, in the town of Tanuan, was devastated by the storm. His school was destroyed and nine of his classmates were killed.
Michel is still mourning the loss of one of the teachers. "I want to turn back time. But I can't," he says. "I'm happy to be coming back to school. So I can finish and make my teacher, who was like my second mother, proud."
Michel's mother, Marites, agrees. "No matter how terrible the tragedy we have gone through, our children need to be back in school. Education is the only inheritance we can give them. I want Michel and my other children to study. I don't want them to go through the hard times I went through," she said.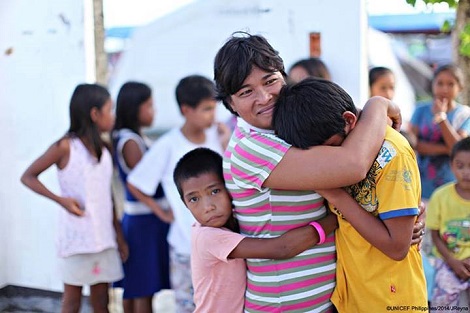 Marites hugs her son Michel as he remembers his teacher, who died during Typhoon Haiyan. She knows that school reopening will help him cope.
Michel's school now consists of two tents and six makeshift classes provided by the Department of Education with support from UNICEF. Just one of the school's 17 original classrooms survived the disaster. UNICEF is also providing educational supplies and supporting water and sanitation facilities at the school.
Education is a powerful tool for positive change. For Michel and other children affected by Haiyan, it is also the beginning of a future of hope and opportunity.
Help support children like Michel every day of the year by joining Philippines 365.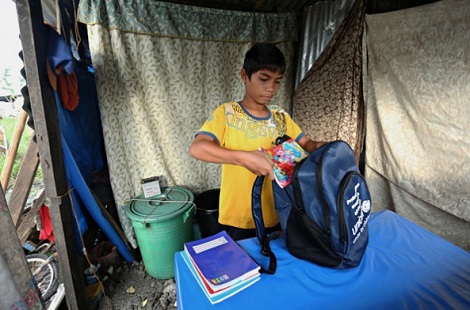 Thirteen-year-old Michel packs books in his backpack before setting off for school for the first time since his neighbourhood was destroyed by Typhoon Haiyan.
Categories:
Geographic Regions: