Canadian humanitarian's life-saving boots inducted into the Bata Shoe Museum
After traveling over 100,000 km through some of the most dangerous, remote and devastated parts of the developing world to deliver life-saving supplies to tens of thousands of children in need, Nigel Fisher's boots were inducted into the permanent collection of the Bata Shoe Museum in Toronto on November 1st.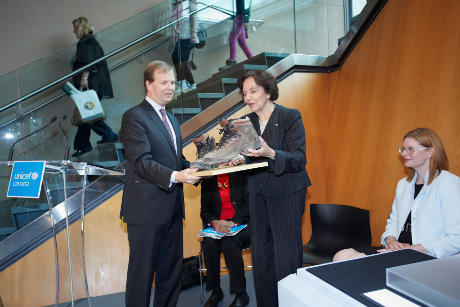 David Morley, President and CEO of UNICEF Canada, ceremonially hands the boots over to Sonja Bata, Founding Chairman of the Bata Shoe Museum. ©UNICEF Canada/Geoff George
"These boots represent the commitment of the UNICEF team, past and present, to do whatever it takes to reach the poorest, most vulnerable children in the world," said David Morley, President and CEO of UNICEF Canada.
"Since we opened our first Canadian office in 1955, everything we've worked towards has been led by the belief that every child deserves every opportunity – without exception.
"We're tremendously honoured today to celebrate the dedication of UNICEF staff like Nigel and the generosity of Canadians who, like us, believe nowhere is too far to go to make sure a child survives."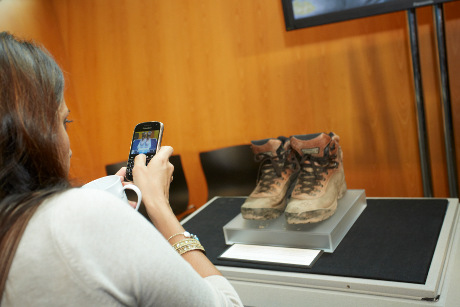 A visitor takes a snapshot of the newly-inducted Timberlands. ©UNICEF Canada/Geoff George
In recognition of his incredible humanitarian efforts with UNICEF, Nigel was recently dubbed the "caretaker of the world's children" by the Toronto Star.
"When things get tough for kids, you don't sit and mope," says Nigel, father of two grown daughters. "You get going. You have to find solutions."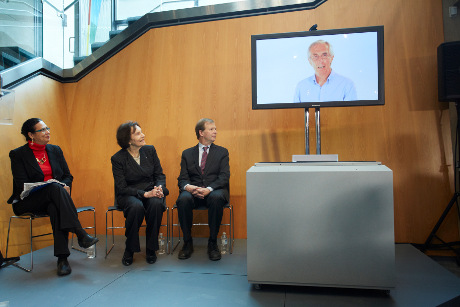 From left to right: Patty Fisher, Nigel's wife; Sonja Bata; David Morley; and onscreen, Nigel Fisher, who attended the induction via Skype. ©UNICEF Canada/Geoff George
Nigel – currently the Deputy Special Representative of the Secretary-General in Haiti – attended the event remotely, as he was busy with the humanitarian response to Hurricane Sandy. His wife Patty Fisher graciously accepted a brand new pair of Timberlands on Nigel's behalf to allow him to carry on his life-saving work.
From the bottom of our hearts, we would like to thank Nigel for devoting his life to UNICEF, and to saving children's lives around the world.
Watch the video
In the News
Nigel Fisher, caretaker of the world's children [Toronto Star]
Geographic Regions: