Celebrating the 50th anniversary of UNICEF's Nobel Peace Prize
October 26 marks 50 years since UNICEF was awarded the Nobel Peace Prize. UNICEF has worked every day since 1965 to realize the right of every child to the quiet blessing of a normal childhood - the surest path to a more peaceful world.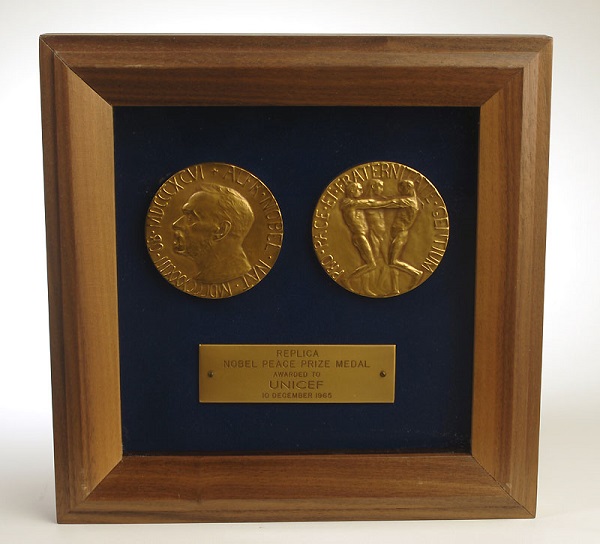 In 1965 the Nobel Committee wrote: "UNICEF's activities marked a breakthrough for the idea of solidarity between nations, which helped to reduce the difference between rich and poor states. That also reduced the danger of war. UNICEF has proved that compassion knows no boundaries. Aid is given to all children without any distinction of race, creed, nationality, or political conviction."
Since UNICEF was awarded the Nobel Peace Prize in 1965, the world has become a better place for children. Child mortality has been reduced by more than half and more children than ever before are in school and have access to clean water and sanitation. There has been a drastic reduction in mother to child transmission of HIV, child labour and more mothers than ever are surviving childbirth. The world can be proud of these results, but UNICEF's mission - realizing every child's rights - is far from finished. There are still too many children being deprived a fair chance in life.
To secure peace is not only to secure the absence of war, but to reduce the reasons for conflict. Sufferings and deprivations will frustrate and embitter and make war more likely.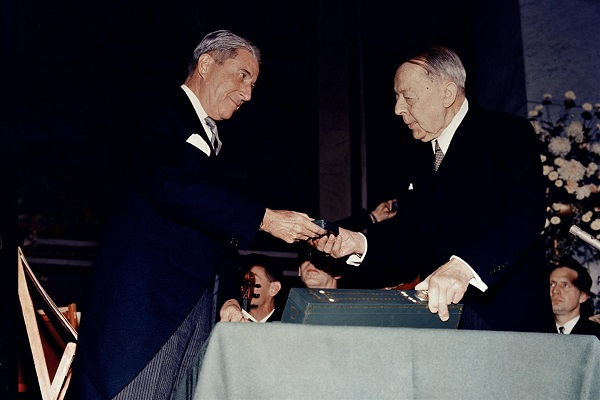 UNICEF Executive Director Henry Labouisse (left), receives the Nobel Peace prize medal on behalf of UNICEF, presented by Nobel Committee Chairman of the Norwegian Parliament, Gunnar Jahn, at the prize ceremonies at Oslo University in Oslo, the capital.
This year UNICEF is celebrating the 50th anniversary as Nobel Peace Prize Laureate - the same year the world is committing to the Sustainable Development Goals. The anniversary is a good reminder of the importance of children as agents for change and that we still need to create results for children in order to create a better future.
As UNICEF looks to the next 50 years, we renew our mandate to promote the rights of every child, everywhere, in everything we do, so that someday they have the ability and the desire to create a future where peace is possible.
Categories: