Charity Trek to Machu Picchu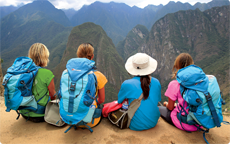 Have a taste for adventure? Like the road less travelled? Enjoy challenging yourself?
The adventure of a lifetime awaits. Join UNICEF Canada on a trek through the Peruvian mountains.
Destination: Machu Picchu.
May 3-11, 2013, join the Trek and help raise money for the world's most vulnerable children. Experience an unforgettable journey through the Peruvian mountains to the lost city of Machu Picchu, a 15th century Incan village surrounded by spectacular scenery, in a region that has remained virtually unchanged for centuries.
Charity trekkers will hike through the remote Lares Valley, enjoying magnificent views of the snowy peaks and glaciers of Mount Veronica, Chicon and Pumahaunca. Trekkers will also have the rare opportunity to witness an ongoing local UNICEF project first-hand.
The trip culminates in an exploration of the ruins at Machu Picchu, the "Lost City of the Incas." These breathtaking pre-Columbian ruins, rediscovered in 1911, are nestled high in the Andes between two peaks and represent one of the most ancient historic sites in the world.
Join us for an experience that will change your life – and the lives of the world's most vulnerable children too.
Visit the Charity Challenge website for more information.