Diamond Jubilee Awards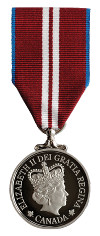 We are proud to announce that our very own Lisa Wolff, Marv Bernstein and David Morley have been awarded Diamond Jubilee medals for their exceptional work advancing children's rights in Canada and around the world.
To celebrate the 60th or "Diamond Jubilee" anniversary of Queen Elizabeth II's reign, the Governor General of Canada is honouring the contributions and achievements of 60,000 outstanding Canadians.
As Director of Advocacy and Education at UNICEF Canada, Lisa has worked with national institutions, government, civil society, researchers and private sector partners for more than a decade to develop initiatives advancing children's rights in policy, child related programming and educational curricula. She is also a member of the Advocacy Task Force for UNICEF internationally and has represented UNICEF Canada in various regional and global forums.
Marv is our Chief Advocacy Advisor and a former Children's Rights Advocate for Saskatchewan. With 34 years of professional experience as a lawyer, Marv has litigated child welfare cases at all court levels, including the Supreme Court on two occasions. He is also a widely published author, and has written extensively on a variety of issues concerning to children's rights.
David draws on more than 30 years of experience in international cooperation and humanitarian development as UNICEF Canada's President and CEO. Prior to his appointment, David served as President and CEO of Save the Children Canada and Executive Director at Médecins Sans Frontières Canada. His writing has appeared in outlets across Canada and the world, and his most recent book Healing Our World: Inside Doctors Without Borders won a number of awards.
We would like to offer our heartfelt congratulations to these three exceptional and deserving recipients. Their work has helped to make a better world for children.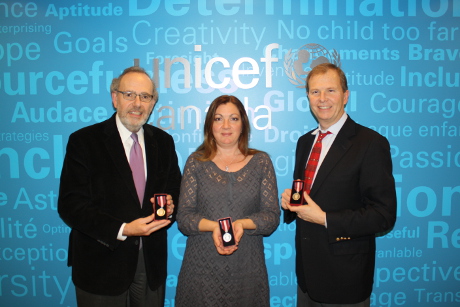 Left: Marv Bernstein, Chief Advisor, Advocacy.
Centre: Lisa Wolff, Director of Advocacy and Education.
Right: David Morley, President and CEO of UNICEF Canada.
Categories:
Geographic Regions: