Five signs of life in Yemen
Yemen is currently going through a crisis due to renewed conflict throughout the country, and millions are in need of life-saving health treatments, food, water and shelter. To help UNICEF's efforts in Yemen, click here.
Years of conflict in Yemen have left 18.8 million people - some 70 per cent of the population - in need of humanitarian assistance. After the United Nations-backed peace talks were suspended in August 2016, airstrikes and hostilities intensified and civilians are paying the price.
Close to 4,000 civilians have died as a direct result of the conflict, including 1,332 children. At least 14.5 million people lack access to safe water and sanitation and 14.8 million have limited or no access to health services, compounding a cholera crisis that has put 7.6 million people at risk.
The nutrition situation has deteriorated, with 3.3 million children and pregnant or lactating women suffering from acute malnutrition and more than 460,000 children under five suffering from severe acute malnutrition.
The near collapse of national services has left an estimated two million children out of school. Almost 2.2 million internally displaced persons, nearly half of them children, as well as one million returnees and many host communities, are also in need of assistance. Ongoing conflict and the deteriorating economic situation have put essential public services such as health on the verge of collapse, leaving children and women at even higher risk.
But there is hope. More than 99 per cent of people who are sick with suspected cholera and who can access health services are now surviving. And the total number of children who will be afflicted with severe acute malnutrition this year is estimated at 385,000.
However, the situation remains dire. Thousands are falling sick every day. Sustained efforts are required to stop the spread of disease. Nearly 80 percent of Yemen's children need immediate humanitarian assistance.
After visiting several sites of interest in Yemen, UNICEF Executive Director Anthony Lake said, "We now call on the international community to redouble its support for the people of Yemen. If we fail to do so, the catastrophe we have seen unfolding before our eyes will not only continue to claim lives but will scar future generations and the country for years to come."
Though the situation in Yemen is at its worst, there are signs of life among the famine, war and sickness; children still find time to play and are eager to learn; humanitarian response workers are doing everything in their power to help where needed, and most of all, a feeling that things will get better is undeniable.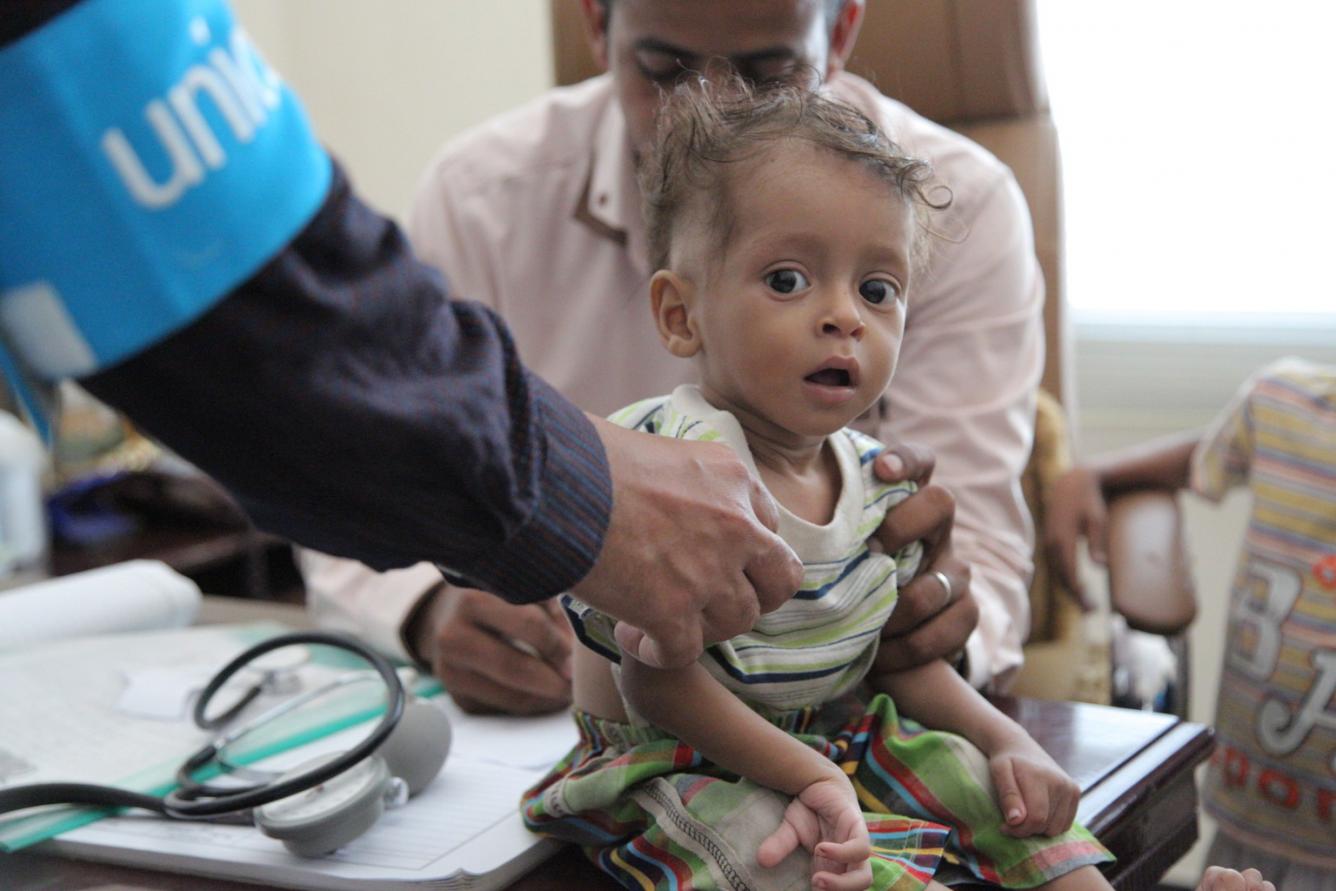 Nursing children back to life
A boy is screened for malnutrition in Sa'ada, Yemen, Thursday 20 October 2016. Nearly 182,000 children in Yemen were treated for severe acute malnutrition as of October 2016.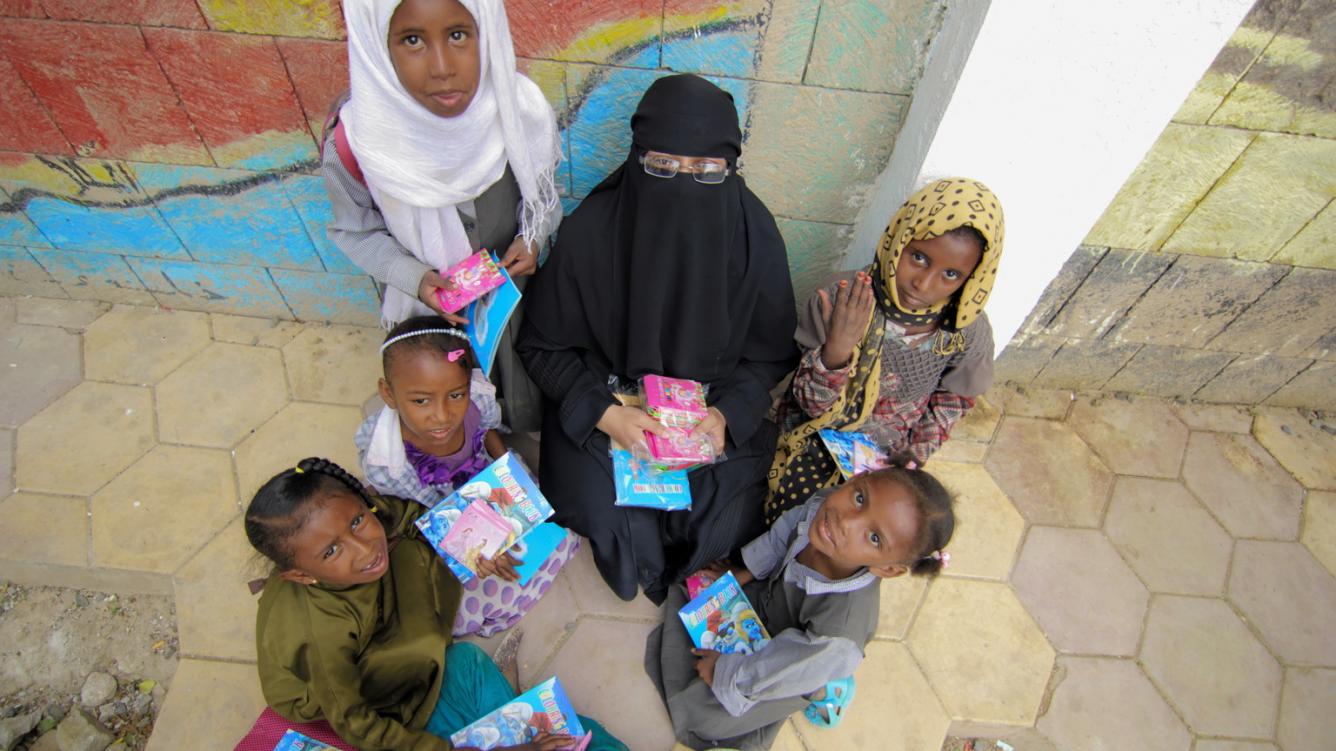 Knowledge is Power
Tahani, a teacher who volunteers to teach displaced and marginalized children, sits with some of her students in Ibb, Yemen.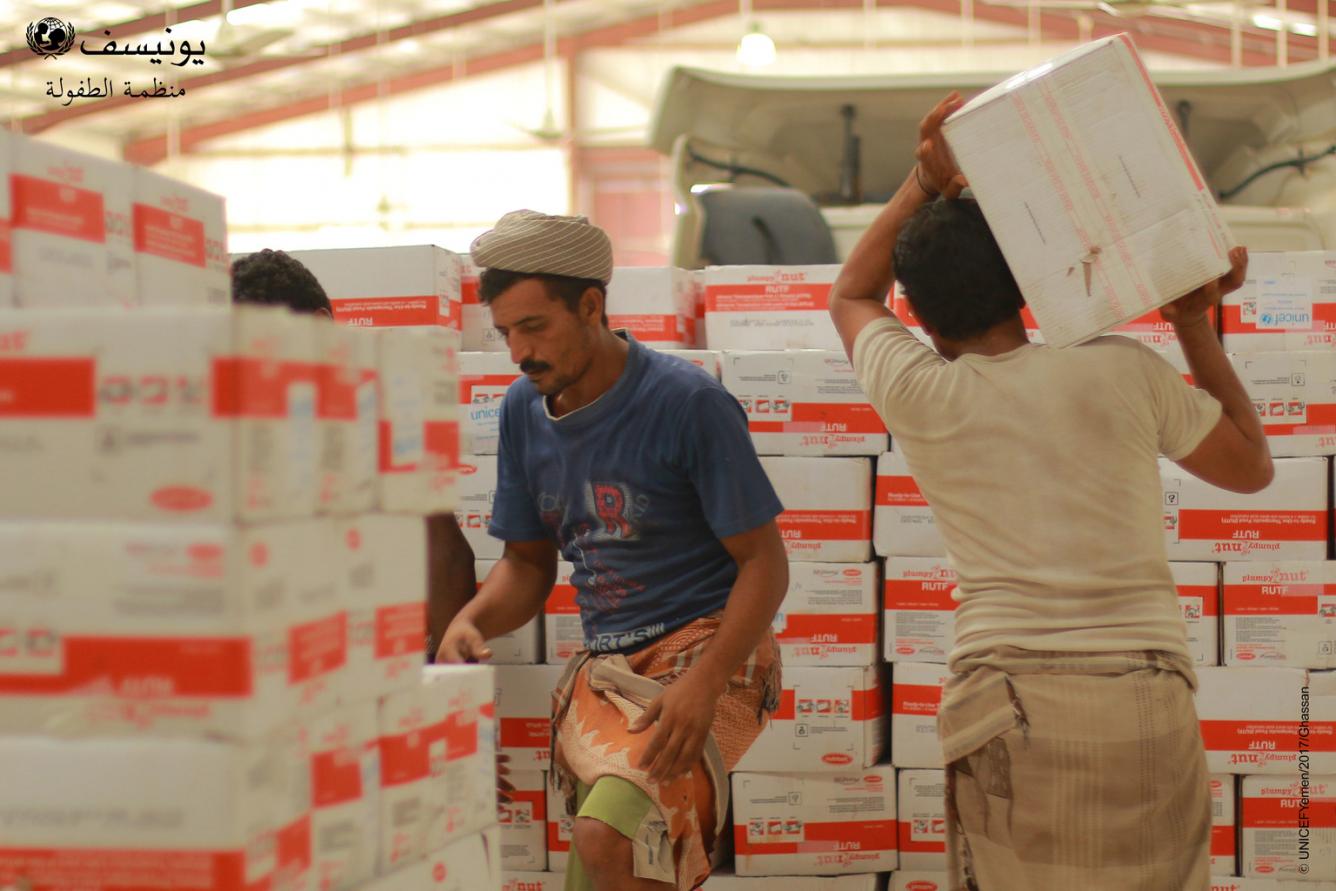 Many hands make light work to save lives
In June 2017, medical supplies, including lifesaving Ready-to-Use Therapeutic Food (RUFT) are loaded on to a truck at the UNICEF warehouse in Hudaidah City. RUFT is a peanut-based paste that's high in calories and full of added vitamins and minerals. Three packets a day for eight weeks can save the life of a child with severe acute malnutrition.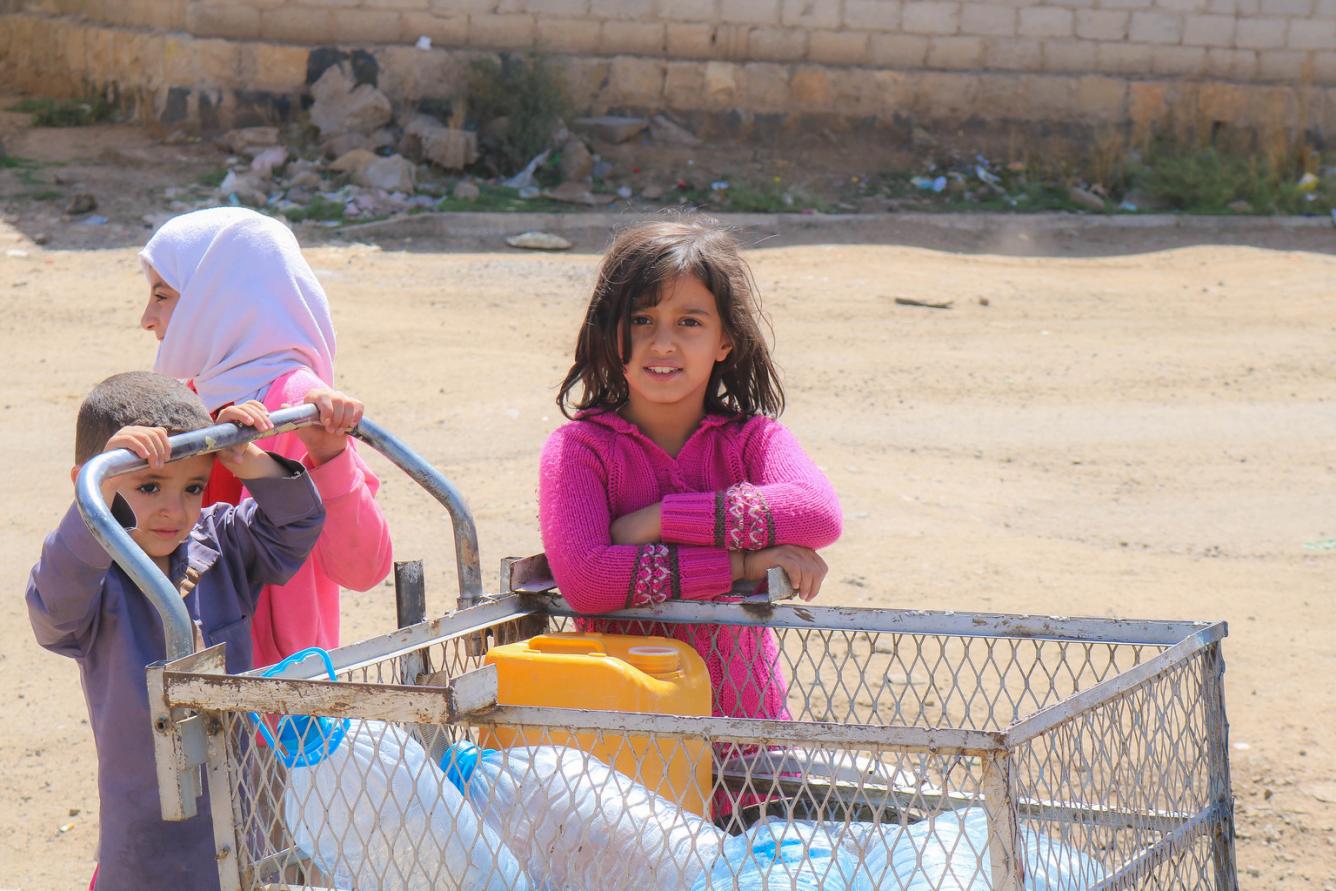 Water is life
Children bring their jerrycans to fill with drinking water in Sana'a, Yemen. UNICEF is helping to provide chlorinated drinking water in affected areas of the country.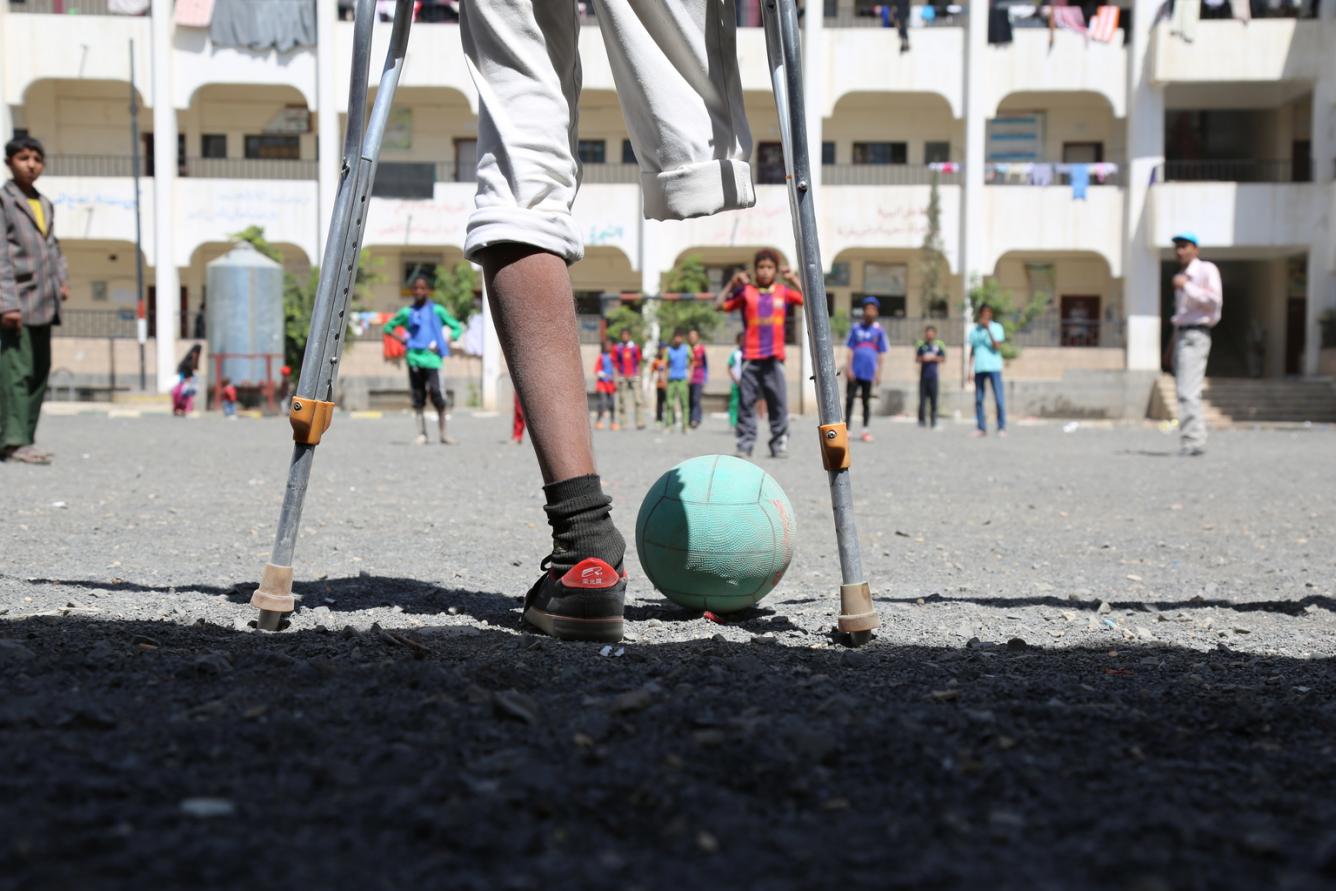 The beautiful game in ugly circumstances
In October 2015, Rafik (wearing purple) is pictured playing football with one leg at Al Zubairi school in Sana'a. He lost his other leg while playing football in Sa'ada. A bomb fell close by injuring him and killing his best friend eight years ago. School buildings at the Al Zubairi school in Sana'a being used to take shelter by 34 displaced families fleeing from Sa'ada. This game is organized by UNICEF as part of its child friendly space program.
To help UNICEF's efforts in Yemen, click here.
Categories:
Geographic Regions: