[HAIYAN Survivors] Ronalyn: A Special Birthday Wish
By Karen Gray
Today it's (Maria) Ronalyn O. Grabidio's 14th birthday. She's celebrating with her family at her home in Barangay San Roque in Tanauan. There's a lot of fun and laughter. "My birthday wish is to be able to finish my studies," Ronalyn says smiling as she blows out her candles.
It may sounds like a simple birthday wish but it's a goal many children in the Philippines thought they wouldn't be able to achieve when Typhoon Haiyan caused huge damage to their schools and communities on 8 November, 2013.
Typhoon Haiyan was the largest ever typhoon to make landfall. Almost 6000 people died and homes and livelihoods were lost. The task at hand for relief and recovery was enormous and extremely challenging. UNICEF was on the ground within the first days beating formidable logistical and communications challenges in getting supplies and services to the people most in need.
As soon as possible, UNICEF's response also included helping children, like Ronalyn, back into school. As in all emergencies, education is vital for children to experience a normal routine in a safe place while parents can focus on rebuilding their lives.
Back in Class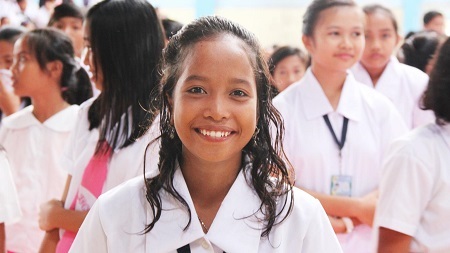 Now Ronalyn is back at school and loving her studies, "I'm studying now at Tanauan School of Craftmanship and Home Industries. My favourite subject is math," she says although she also has a love of singing and dancing. Her school club even won a competition recently.
After Typhoon Haiyan, over 3,200 schools and day care centres were destroyed and over a million pre-schoolers and school-aged children found themselves lacking learning opportunities. UNICEF and partners focused on working to promote children's 'back to learning' in schools by improving facilities and communicating the benefits and importance of education.
This included:
Reaching 624,783 pre-school and school-aged children with learning supplies and materials in the affected areas.
Helping 213,200 children to access education at over 2000 Temporary Learning Spaces by providing tents and tarps.
Making over 1706 makeshift solutions and repairs for classrooms and day care centres to restore them to safe learning environments.
Providing 504,000 children with school hygiene kits containing soap, toothbrush, toothpaste and a water tumbler.
Looking to the Future
Now Ronalyn studies hard because she has big dreams, "I want to be a teacher….be a chef….be a policewoman…a nurse….a doctor…to be able to work in the office," she says as we walk down the beach. Today the water is calm; colourful fishing boats fill the sandy beach.
"For me, now is better…before there were no people fishing. Now there are plenty of fishermen."
For Ronalyn the future is looking bright, "Now I feel happy… not like before, she says. "After Typhoon Haiyan the people were scared and traumatized. I'm in a good condition now. I have lots of friends. The people here are earning a living."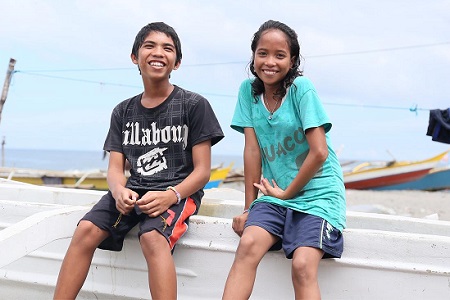 A huge thank you
Children like Ronalyn are on the road to recovery because of the generous support provided to UNICEF for its response to Typhoon Haiyan. Filipino people often thank UNICEF workers on the ground for their support and that thank you belongs to all who helped in our efforts to restore devastated lives and communities.
Ronalyn says, "To those who helped us thank you very much. I hope you get to help more especially when there are calamities. I hope you won't lose hope when you help others. Like what happened to our place, you didn't lose hope for us."
Read more stories of survival:
Learn more about how UNICEF helps children like Ronalyn in emergencies.
Categories:
Geographic Regions: