Head Teacher leads the charge in Burkina Faso to make his school a better place to learn
Idrissa Kouraogo, has been the head teacher at Lilyala Primary School in Burkina Faso since it opened 15 years ago. He has seen many improvements to the education system in Burkina Faso including the elimination of enrollment fees and a narrowing of gender disparity. However, with only 3 out of 5 children completing primary school in the country, there is still work to be done and Mr. Kouraogo is committed to making his school more child-friendly.
"The first thing I do is greet the pupils and then I look through their exercise books before we start lessons," says Kouraogo, who arrives at school on his motorbike at 6.45 a.m.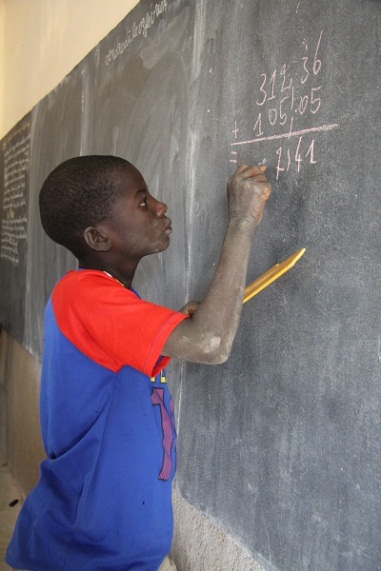 Soumaila wants to go on to secondary school and then university. "I like coming to school because I learn lots of things. I hope to become a professor one day," he says.
The lessons today are conducted in a different manner to how they were before. Not only do the 237 pupils learn in a healthy and safe environment, they also benefit from improved teaching methods and more involvement from their parents and the community.
Since 2010, UNICEF has supported the training of teachers in improved teaching methods as part of the Child Friendly School (CFS) approach.
"During the training we discussed the importance of putting children at the centre of local development," explains Kouraogo. "We also talked about collaboration between teachers, pupils, the Student Parent Association and the Association of Mother Educators. Communication and collaboration are key to the functioning of our school."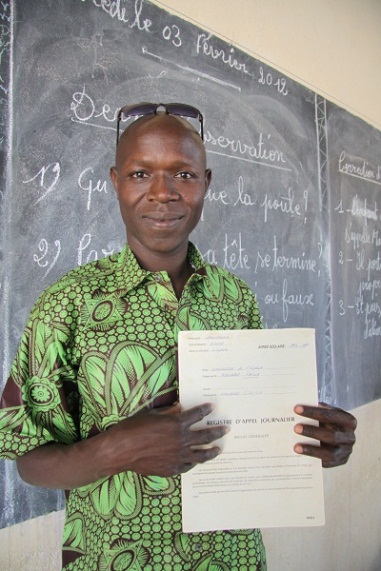 Head teacher Idrissa Kouraogo in his classroom.
In Kouraogo's opinion, the training has significantly contributed to an improvement in their teaching methods. "Now we do more group teaching and have arranged the tables in groups instead of rows. We also set different tasks for pupils who have difficulties so that they are not left out and we encourage peer education so that pupils who understand the lessons can support those with difficulties," he explains.
Supporting schools like Kouraogo's requires ongoing support from our generous donors.
Most recently, Johnson Insurance donated $10,200 in honour of The Retired Teachers of Ontario to celebrate their 30th anniversary to help UNICEF train more teachers and provide school supplies in Burkina Faso. $10,000 can make a huge impact on the lives of children and teachers in some of the hardest to reach areas of the world. For example, UNICEF can provide training for up to 30 teachers in Burkina Faso and provide essential schools supplies including bags, exercise books, pencils and erasers for approximately 30 classrooms.
It is through the generous support of donors like Johnson Insurance that allows UNICEF to provide education to more children around the world.
Categories:
Geographic Regions: