In Nepal, UNICEF's child-friendly spaces help children cope after the earthquake
By Naresh Newar, UNICEF Nepal
Eight-year old Sushmita Pariyar has always taken care of her younger siblings due to her busy parents. And this time also, she is taking care of them as parents are going door to door appealing for help to rebuild their dilapidated house in Bagbazar, Kathmandu. But today, she is happy spending her time enjoying real childhood at the child-friendly space at the Tundikhel ground which is housing Kathmandu's largest number of earthquake displaced families.
The child-friendly space was established today by UNICEF in partnership with its long time non-profit organisation (NGO) partner Seto Gurans to ensure children live in a safe and child-friendly environment after the devastating 7.8 earthquake in Nepal.
Support our work for children in Nepal today.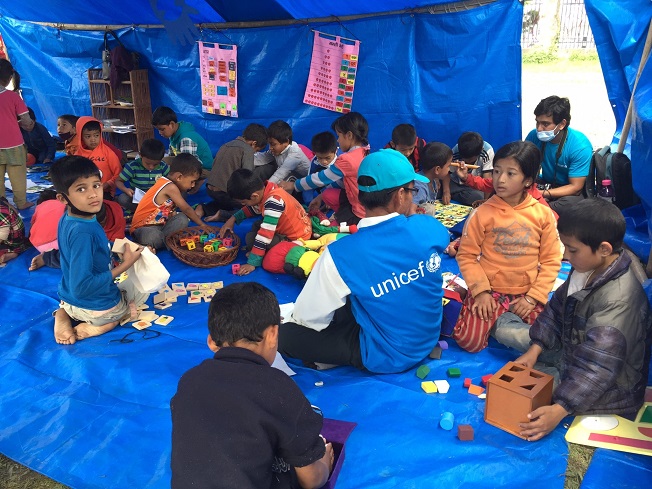 "It's really a sight of great relief to see them not crying but smiling and having fun at the same time," Sunita Shakya from Seto Gurans said.
Over 100 children between the ages of under-one to eight could be be seen playing puzzles, toys, dolls and rope skipping and also just being playful.
"I'm having fun," says Sushmita while still being protective of her younger brothers Anil and Sunil, who are six and eight years old.
Both UNICEF and Seto Gurans staff have been acting as their guardians while their parents are busy managing their tents and running around for food and water for their children.
"There are many children across the country who are affected seriously by the disaster and we wanted to create this centre so that they can be at peace," said Sabina Shrestha from UNICEF.
"I like being here. It is like my school," said 7-year old Jayanti Ghimire while she works on a puzzle and reads a book to her younger sister, 3-year old Manita.
The number of displaced families is now reducing, especially with Kathmandu's long-time residents moving in temporarily with their friends and families. But it is mostly the migrant families from outside the Kathmandu Valley who make a living with low-paid jobs who are left in the camps as they have no friends or relatives to help them in Kathmandu.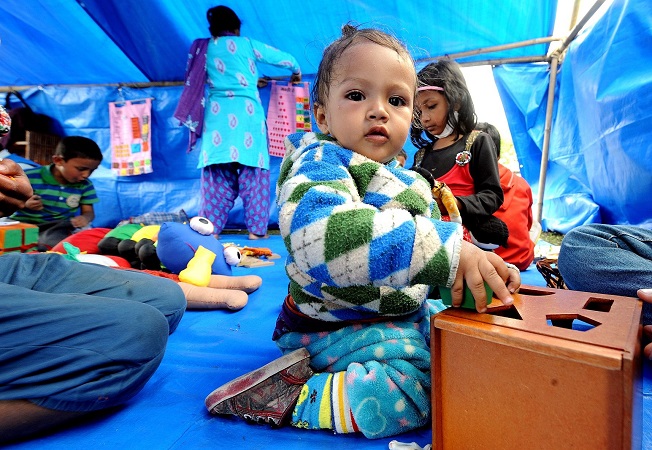 With the establishment of the centre, the parents are breathing a sigh of relief watching their children relax and not cry unlike before when there was no provision of providing them child friendly environment.
There are now two big tented centres with books, toys and a lot of things for children to pass their time and play with.
"The centre has been a great aid to keep the children distracted from all the bad experiences and helping them to move on," says Seto Gurans' volunteer Deepika Khadgawal, who had come all the way from the remote Dadeldhura district in far western Nepal to help.
Your donation can help keep more children safe in Nepal. Please donate today.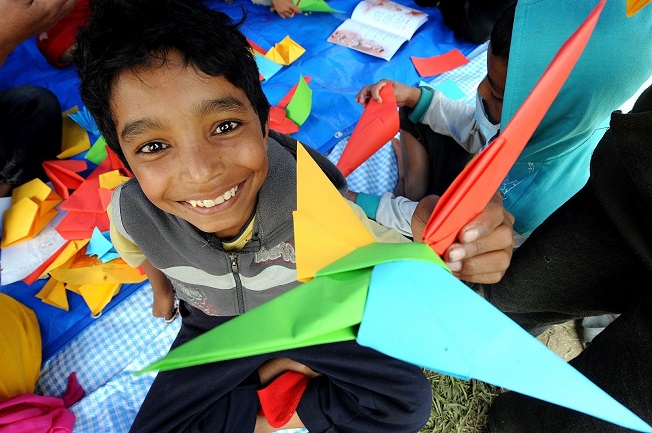 Categories:
Geographic Regions: