Interview with Katerina Mertikas, Featured Artist, UNICEF Canada Holiday Cards
Katerina Mertikas is a self-taught artist who was born in Tripoli, Greece. She and her family immigrated to Canada in 1960; first to Montreal and then to Ottawa. Her two daughters were originally the inspiration of her work, and now she happily depicts her grandchildren in her works with renewed energy as she watches them grow. She had her first show in Ville Saint Laurent in 1989 and has been showing ever since. She has been honoured with a "Women of Distinction" award in the arts category in 1999 and elected as a Fellow of the Royal Society of the Arts. She is also a featured artist on UNICEF's Holiday Cards, sales of which go towards supporting our work to reach the most vulnerable children around the world and helping them survive and thrive. We asked her about her story: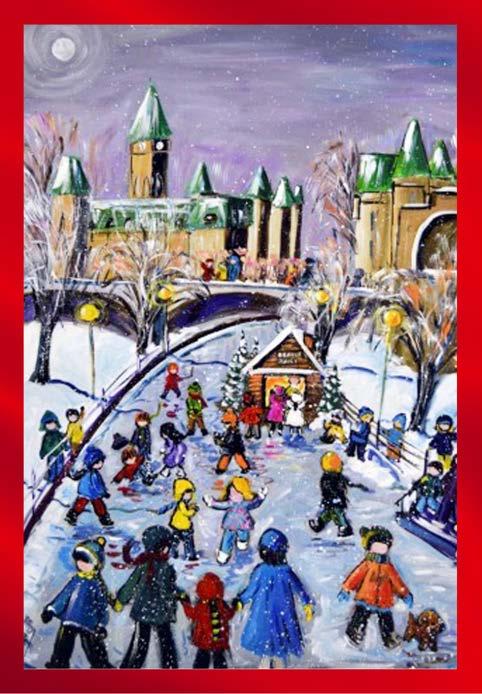 "Art is something you love and have a need to do"
"I have been an artist all of my life but turned professional in 1991. My naive style expressionistic art seems to appeal to a range of viewers and have been fortunate to show my works nationwide and sell in many fine Canadian galleries my originals and some prints.
Art is something you love and have a need to do. For me as a child one of my wishes was to be an artist either in the fashion design business or fine art.
I would spend hours and weekend learning on my own and trying out different mediums. I have chosen since 1991 acrylics as they dry fast and when I use them nice and thick take on an oil look appearance. I also feel they might be less toxic. When people started buying my art in Canada in 1991 many commented that my work also looked like a cheerful greeting card and after so many comments such as those I submitted in 1993 to New York UNICEF my first images, which were met positively and made into greeting cards and also used on the cover of the 1993 brochure."
Representing joy, peace and love
"The cards were sold for a few years as it was a lovely painting and peaceful. Most of my works depict children in happy, safe surroundings being outside mostly, playing, catching a school bus or playing sports. I love kids and am happy that this style appeals to so many people. UNICEF thought they represent joy and peace and love and it just made for a perfect fit.
One of my paintings was made into a 1995 50th anniversary stamp for Guernsey. All of these factors went to make me one super happy artist.
Not only was I painting what I loved to paint and working at this and making a living out of art, but now I was also giving back, especially giving back to children worldwide and really hoping some kids were helped because of some of the revenue my art generated. Since then there have been at least 16 or 20 images used of my work.
I go to schools when asked to talk about careers and art and I always promote UNICEF to everyone. In fact, I give away some UNICEF cards if I have extras to all the kids."
A worthy cause
"Now with social media, I promote my work and UNICEF all the time and tell people to not only still send greeting cards, which really is a nice thing to do (everyone loves mail), but if they are going to buy cards why not buy some that will also give back.
Many times I have been featured in Ottawa newspapers since 1994 talking about and promoting UNICEF, radio and TV.
My family always sends UNICEF cards. My kids, now my grandkids, are very proud that I have year after year been a sought-after artist to help out in such a worthy way.
It's been, and will continue to be, a lifelong commitment of mine to continue sharing my art through UNICEF.
Greece, after WW2, benefited from UNICEF and this makes me love UNICEF even more as I am Greek and many people my mom's age, especially my grandparents, probably have somehow benefited from some UNICEF help after 1945.
Hoping this world-recognized organization much success as there are too many needs still out there. My heart bleeds when I see kids in distress!"
To purchase a UNICEF Canada holiday card featuring Katerina's work, click here.
Categories:
Geographic Regions: