Motorcycle Diaries: Biker Gang Hits the Road to Help Children in South America
In a creative fundraising campaign to help some of the world's most vulnerable children, four friends are travelling by motorcycle all the way from their home base in British Columbia to the very tip of South America!
In the course of planning the Gang of Four's expedition to Tierra del Fuego, we decided to do something "outside ourselves" to benefit folks living in the countries where we would be traveling. This led to a search for a suitable charity, something that was credible and which had operations in Latin America. There are thousands of charities in Canada, and a surprisingly large number of these carry out projects in one or more locations in Latin America.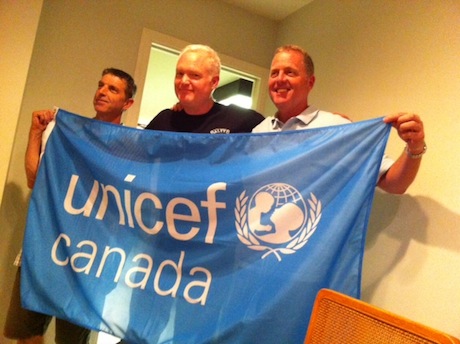 September 1, 2012: The Gang of Four flies UNICEF colours before setting out on their ambitious expedition.
On closer examination it became apparent that many were either very small operations or indeed largely inactive. A significant exception was UNICEF Canada. It is an agency of the United Nations that develops community-level services to promote the health and well-being of children in hundreds of countries and territories around the world.
UNICEF raises billions of dollars every year from governments and millions of individuals. More than 90 percent of their revenue is directed to programs to help children, and staff compensation and benefits are based on a standardized UN 'Common System'. Another selling feature was UNICEF Canada's online donation system, which allows donors to make secure on-line payments using credit cards directly through the Gang of Four's fundraising page.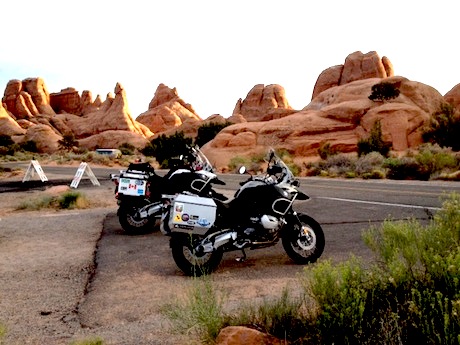 I'm a tad embarrassed to say that having decided upon UNICEF, we had forgotten that it was the same charitable organization that Ewan McGregor and Charley Boorman had elected to support for their famous "Long Way" rides. So I was delighted when Olivia Klej, our helpful and supportive Community Engagement Coordinator at UNICEF Canada in Toronto, provided me with four black UNICEF hoodies and reminded me that they were "the same kind Ewan McGregor wore in Long Way round"!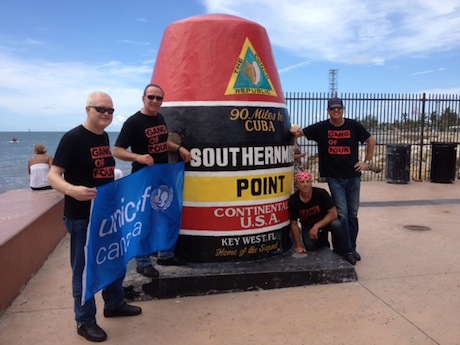 September 15, 2012: the Gang in Key West, Florida, after 6,411 km on the road.
Due to the collective efforts of the four of us, but in particular those of Dogcow, we have succeeded in reaching our fundraising goal of $10,000 for UNICEF. We are particularly enthused that UNICEF has agreed to direct the funds we raise to the Peru Micronutrient Initiative, which is helping to improve child nutrition in that country in ways critical to proper early childhood development.
While we have met our official fundraising goal, this remains a very worthwhile initiative, and we encourage anyone reading this to consider making a contribution – or perhaps even a further contribution – to our UNICEF fundraiser by visiting our fundraising page. Those who may be reading this post on the UNICEF blog or anywhere other than the Gang of Four blog may wish to learn more about our adventure by visiting our blog at www.go4south.com.
Thanks to everyone who has contributed so generously to our UNICEF fundraiser so far, as well as those who may do so in future.
The Big Easy
Categories:
Geographic Regions: