No place for children: the impact of 5 years of war on Syria's children
Every Syrian child under the age of five will have known nothing but a lifetime shaped by war – That's an estimated 2.9 million children inside Syria and at least 811,000 in neighbouring counties.
Addressing the needs and rights of all children affected by this conflict is essential if we are to avoid an entire generation – and decades of development progress – being lost.
Any child who has lived thought the last five years will never know the Syria their parents remember. Bombs have turned classrooms, health centres and parks to rubble. The streets where they should be able to play are blocked by checkpoints or littered with explosive remnants of war. Schools and hospitals have closed in the thousands.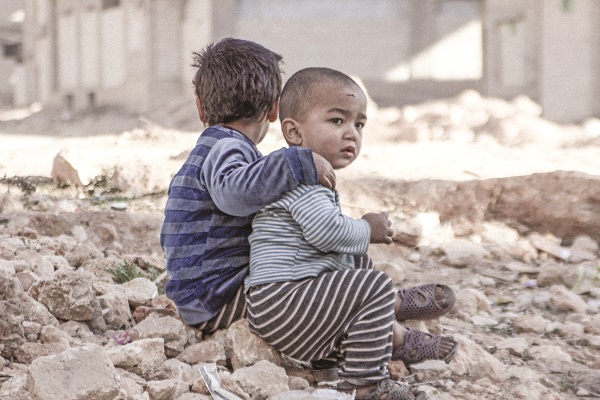 Diseases once vanquished, have returned. Out of work, and in debt, parents can no longer afford basic life essentials. The supply of water to family neighbourhoods is often unreliable or contaminated. In some parts of Syria, once a developed and self-sufficient country, children are dying of severe malnutrition.
In Syria's neighbouring countries, the number of refugees is nearly ten times higher today than in 2012. Half of all refugees are children. Some come by car and some walk for days on end before reaching safety. More than 16,600 unaccompanied and separated children have crossed Syria's borders and more than 151,000 were born as refugees.
Syria is now – the most deadly and complex conflict of our time – affecting millions, with its impact being felt across continents.
And today, more than ever, it is a children's crisis. More than eight million children inside Syria and in neighbouring countries are in need of assistance.
Millions of children have grown up ahead of their time, some forced to become their family's sole breadwinners while others have had no choice but to marry and become wives and mothers. Many have joined the fighting, at a much younger age and often without parental consent, taking a much more active role.
Syrian children and youth want to do their part when peace eventually returns to Syria. Their situations may differ, but their dreams are the same: to have a future - and to rebuild Syria as peacemakers, doctors, engineers, educators and leaders. The tools they need are simple: equipped minds, healthy bodies and self-belief.
Read our new report, "No Place for children: The impact of five years of war on Syria's children and their childhoods."
Categories:
Geographic Regions: