Nour: The girl named after the light in her eyes
By Ayberk Yurtsever
The name of this ever cheerful Syrian girl is Nour. It's hard to find anyone in this refugee camp who doesn't know her- she is probably the happiest child around.
Nour and her family fled their home soon after the Syrian conflict erupted. She now lives in Islahiye Camp in Turkey, where she has been sharing a tent with her mother, father and brothers for more than three years.

Nour learned to read and write at a special school for children with Down Syndrome for two years in Syria. The refugee camp's school does not have the capacity for children with special needs, like Nour. But at UNICEF's Child Friendly Space, we are doing all we can to give Nour the educational and social activities she loves.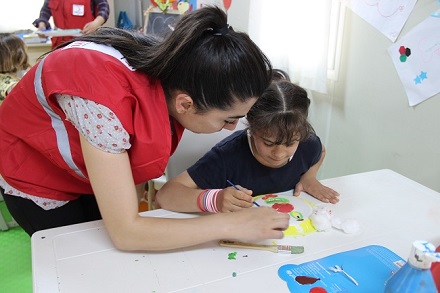 Youth worker Ebru says, "Nour is one of the most special children in this camp for me. She visits and leaves our Child Friendly Space all by herself. Our dance and music activities make her quite happy. She has a special interest in drawing. Although she cannot attend school because of her difficulties, we encourage her to participate in the activities here regularly for her personal development."

When Ebru is talking, Nour proudly interjects, "I'm both hardworking and smart," and makes everyone smile.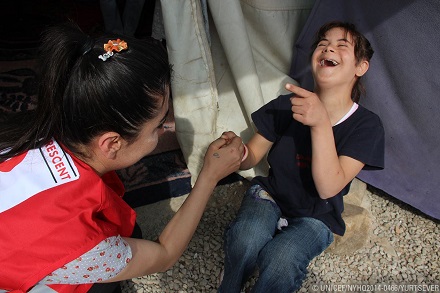 When asked what her three wishes are, Nour says that she wants the youth workers to be with her all the time, she would like to have a sister and that she would love to go to the seaside.

Like many children in the camps, Nour's dream is to be a doctor when she grows up.
Please help us celebrate World Refugee Day by introducing Nour to your friends. Share this blog post to tell her story.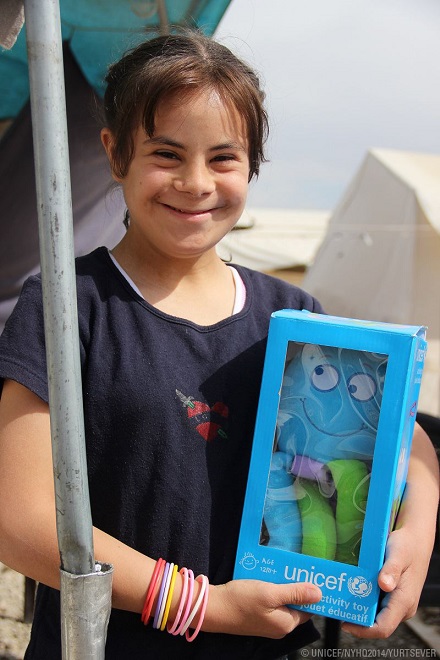 Categories:
Geographic Regions: