Photo Diary: No Child Too Far in Mongolia
In the last decade, the number of children dying of measles plummeted 71 percent. While this represents an enormous victory in the fight for child survival, our work is far from over. Worldwide, measles remains one of the leading killers of young children.
This past fall, UNICEF launched an extensive immunization campaign in Mongolia against measles and rubella – reaching more than 500,000 children.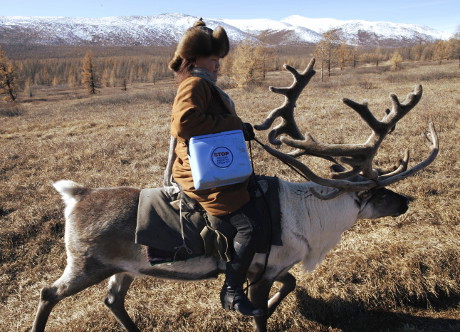 © UNICEF/NYHQ2012-1735/Sokol
We believe nowhere is too far to go to ensure every child is protected. Ms. Oyunchimeg, a UNICEF health worker in Mongolia, travelled by reindeer, hand-drawn ferry, jeep and foot – to vaccinate children from remote nomadic communities.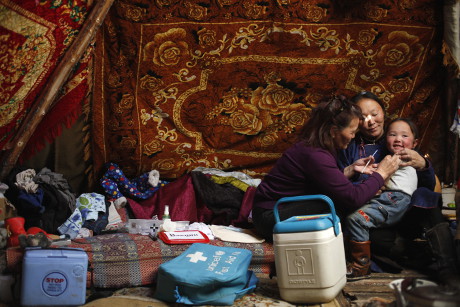 © UNICEF/NYHQ2012-1733/Sokol
Here, Ms. Oyunchimeg is preparing to vaccinate a four-year-old-girl held by her mother. The family is nomadic, and herd reindeer for a living. To the far left is a UNICEF 'cold box,' an insulated vaccine carrier she used over the long journey to keep the vaccines refrigerated.
© UNICEF/NYHQ2012-1732/Sokol
After being immunized, the little girl jumps up and down with excitement next to one of her family's reindeer.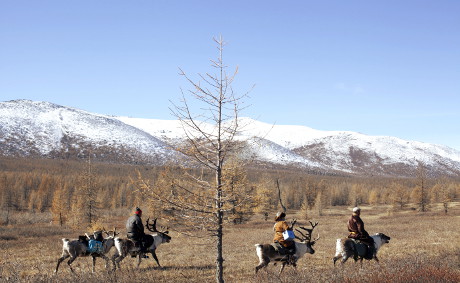 © UNICEF/NYHQ2012-1737/Sokol
"I love to travel in rural areas," Ms. Oyunchimeg says. "It's both rewarding and fun to help people here."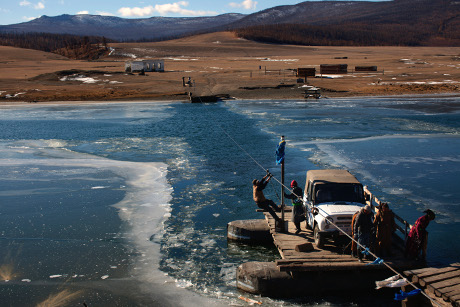 © UNICEF/NYHQ2012-1734/Sokol
On the return journey, Ms. Oyunchimeg and her team must use a hand-drawn ferry to transport their jeep across an icy body of water.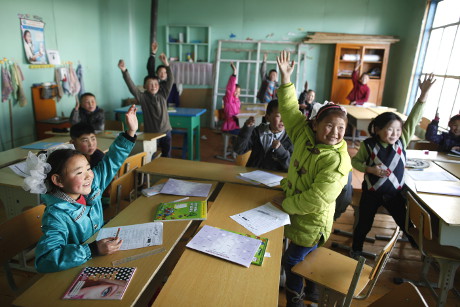 © UNICEF/NYHQ2012-1788/Sokol
School enrollment in Mongolia is high – 94 percent of boys and 96 percent of girls attend classes. To ensure every child was reached by the campaign, vaccination teams targeted local schools and kindergartens in remote communities.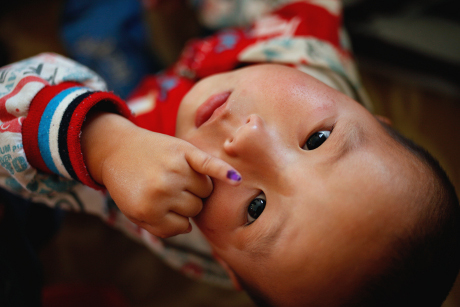 © UNICEF/NYHQ2012-1750/Sokol
A child raises his pinky finger, which is marked to indicate he has been vaccinated.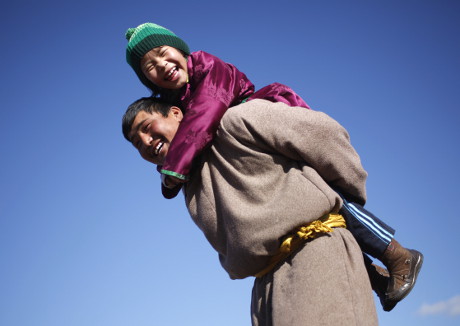 ©UNICEF/NYHQ2012-1781/Sokol
Nine-year-old Oryun-Erdene laughs as her brother lifts her onto his shoulders, moments after being immunized. She has a disability that prevents the use of her legs.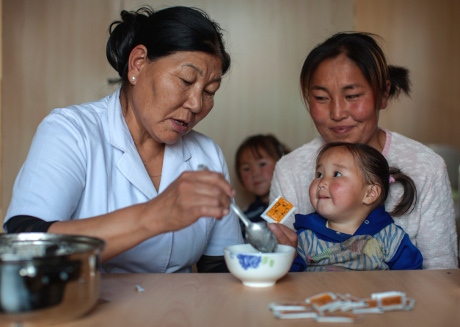 © UNICEF/NYHQ2012-1792/Sokol
The campaign also promoted best practices for nutrition. Here, a health worker adds micronutrient powder to a meal for a toddler.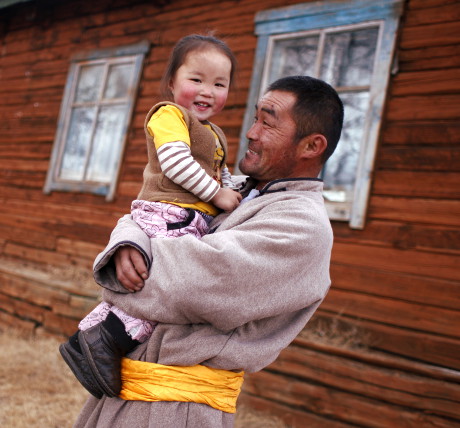 © UNICEF/NYHQ2012-1753/Sokol
At UNICEF, we do whatever it takes to ensure every child can grow up happy and healthy. Our staff will travel to the ends of the earth – by any means necessary – to reach children in need. Because no child is too far.
Categories:
Geographic Regions: