Racing to help children affected by Typhoon Haiyan
By Meg French
Four million children. This is the number of children left in desperate need three days after Typhoon Haiyan ripped through the Philippines. The pictures that are emerging are heart wrenching.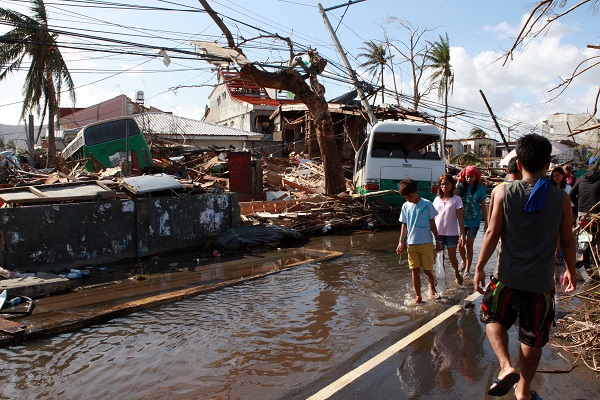 UNICEF's first priority is providing life-saving interventions to children and their families. We have staff in the region and are deploying pre-positioned supplies to cover essential medicines, nutrition, safe water and hygiene.
"As we get a better picture of the impact of this devastating crisis, it is clear that even more children are affected than first thought," said Tomoo Hozumi, UNICEF's Philippines representative. "UNICEF is doing all it can to reach these children, as quickly as possible with critical supplies, to protect their health, safety and wellbeing in the difficult days ahead."
The Philippine Government is conducting a rapid assessment of the storm's damage. So far, assessing the extent of the damage has been challenging with telecommunications and power down in many of the worst-hit areas. 125,604 people in vulnerable areas were evacuated before the storm hit. In total, over 1 million people have been displaced by the typhoon.
UNICEF is working with its partners and NGOs on the ground to deploy emergency supplies as soon as access is available. Therapeutic food, health kits, water and hygiene kits to support up to 3,000 families have already been mobilized, with distribution prioritized for the Tacloban area.
UNICEF's supply division in Copenhagen is airlifting approximately $1.3 million worth of additional health, medical and shelter equipment for another 10,000 families. It is also airlifting water purification and storage equipment and sanitation supplies directly from suppliers in Europe and Asia to Manila, the capital of the Philippines.
Typhoon Haiyan is the third major disaster to hit the Philippines in the last two months. It comes only a few weeks after a 7.2 magnitude earthquake hit Bohol Province in October and an armed conflict in Zamboanga displaced tens of thousands in September.
You can help the children and families affected by Typhoon Haiyan. The Government of Canada has announced that it will match all donations by individual Canadians meaning your donation will go twice as far in helping to meet the urgent needs of children and families in the Philippines.
Categories:
Geographic Regions: