Salamat: a UNICEF Canada team member says Thanks for supporting the Philippines
When Luisa Pizarro, a UNICEF Canada team member, heard about Typhoon Haiyan hitting her home country of the Philippines, she was overwhelmed - first by the devastation and later, by the outpouring of support.
Here is the email she shared with our UNICEF Canada team. It's an email we would like to share with every single supporter who has so generously raised awareness and funds to help.
"Thank you for all the hard work on Typhoon Haiyan emergency. It has been quite an emotional and overwhelming few weeks for me - seeing all the destruction and despair in my home country. But as I watch you all going over (and beyond) your duties since the Typhoon Haiyan struck, as well as hearing the all-out support of 27 UNICEF offices worldwide, it has been truly heartwarming. The outpouring of support around the world is unbelievable. I would like to share a photo of gratitude posted on Facebook by many grateful Filipinos. On behalf of those who will benefit from your work, maraming salamat po!
I could not also resist sharing this message from a good friend of mine, Gisela Tiongson, who I believe speaks to what all Filipinos feel:
"We appreciate all the kind concern, efforts and resources being provided. Our country also needs support, one that recognizes the inherent capacity of the human spirit to rise above this all and look ahead. We are shaken, depressed, angry and remorseful. But most importantly, we remain hopeful. Blessings to all!"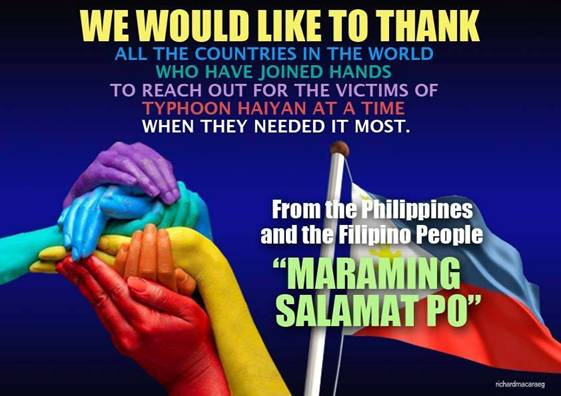 Below is a photo of Luisa Pizarro, far left, with David Morley (UNICEF Canada President and CEO, third from left), Junever Mahilum-West (Philippine Consul General, third from right) and team members at the Philippine Consultate General in Toronto.
Luisa and the UNICEF Canada team visited the consulate to share messages of sympathy and support.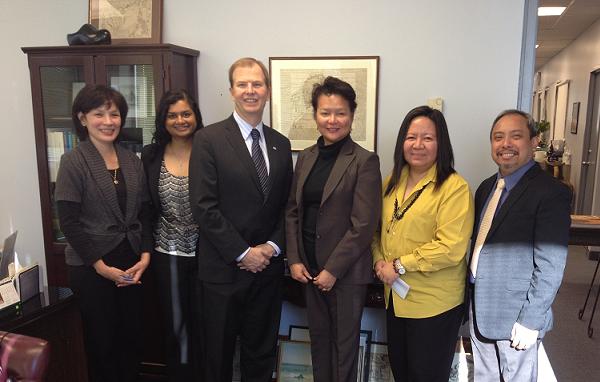 At the office, we turned one of our boardrooms into the "Philippines Situation Room" to inspire the team. On the wall is a sign that says, "Today, you will save children's lives" and it's true - thanks to the support we continue to receive from Canadians like you.
You can still Haiyan relief efforts by donating here. The Canadian Government will match individual donations until December 23.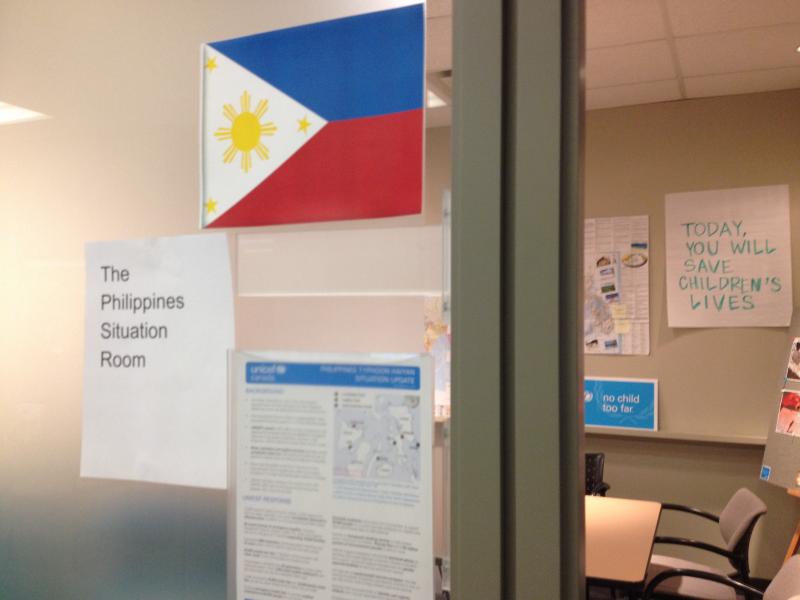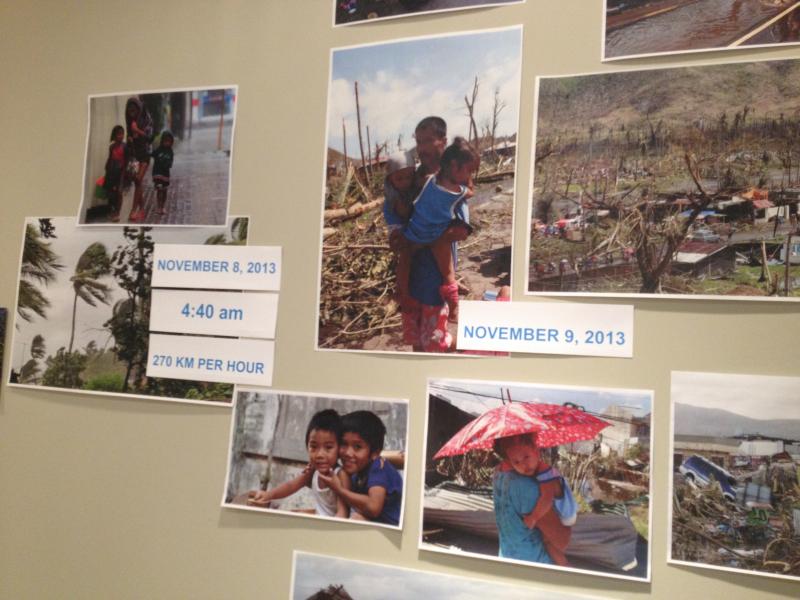 Categories:
Geographic Regions: