Super Cyclone Pam: Rebuilding process begins
By Simon Nazer for UNICEF Asia Pacific
UNICEF has started dispatching supplies to assist some of the estimated 132,000 people impacted by Super Cyclone Pam. There are around 54,000 affected children who urgently need support.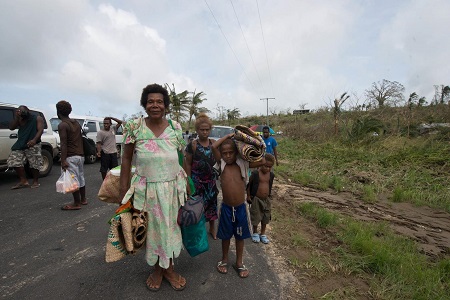 A family carries their belongings on the outskirts of Port Vila, capital of Vanuatu.
© UNICEF/NYHQ2014-0433/UNICEF Pacific
With volunteers in Suva helping UNICEF pack supplies during the night, potentially lifesaving kits have started making their way to Vanuatu. UNICEF is also dispatching experts on the ground to help get people's lives back on track as soon as possible.
But, as UNICEF Emergency Specialist Mioh Nemoto explains, there are some very distinct challenges in getting the supplies to those who need them most. "A lot of stuff has been dispatched but the logistics here are very complicated," Mioh told me on the phone from Fiji. "The population is low but it is scattered over a very large area, on different islands. Communication channels are down and there is no phone coverage. So it's very difficult to move simple things from point A to point B."
The supplies being delivered to Vanuatu include basic health and hygiene kits and emergency school supplies. "Right now, hygiene is a big priority," said Mioh. "Accessing clean water is a big problem here so we're working to ensure people can stay healthy and clean by sending hygiene kits."
Children learning and playing again is also critical says Mioh. "Most of the schools are damaged or being used as evacuation centres, so children can't go back to school. We're working to set up temporary learning spaces so kids can start learning and playing again as soon as possible."
Life in the evacuation centres can be stressful. There are currently 28 centres set up in the Vanuatu capital Port Vila and many people do not have homes to return to. "Many people are living in the centres. I've heard that they go out in the day to try and repair their homes, and sleep in the centres at night. It's hard. Also, with all these people together and without access to clean water, there is a high chance of infectious diseases like measles being spread."
Mioh says the devastation will likely cause long-term damage. "The damage to livelihoods here is severe, with food stocks knocked out. Food security is likely to be a continual problem and we need to start thinking now about how children will stay well fed."
The next two days are critical to reach those who need help the most.
Please donate now to help us reach the children affected by Cyclone Pam at unicef.ca.
Categories:
Geographic Regions: