Syria's Refugee Children Cope with Trauma of War
By Rick Westhead in the Toronto Star
"Zaatari is dangerous and inhospitable. Some residents report scorpions and snakes near their tents. Dust clouds swirl throughout the day and the temperature hovers around 45 C.
As organizers struggle to cope with meeting the needs of roughly 5,000 occupants, with 500 newcomers arriving each day, they acknowledge one of their biggest challenges is helping Syrian children cope with trauma…
Children have not been spared the brutality and violence that has marked the Syrian crackdown. In February, Human Rights Watch reported that Syrian army and security officials detained and tortured children 'with impunity'…"
Read more in the Toronto Star. . .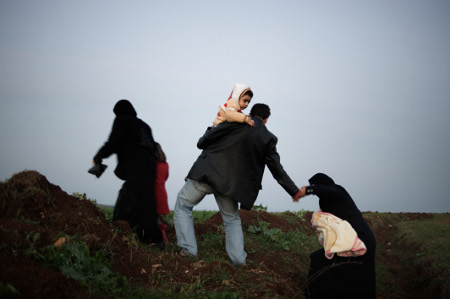 © UNICEF/NYHQ2012-0570/Romenzi
Syria: everyday life has descended into chaos. Fleeing the violence at home, this family is attempting to cross the country's border on foot and try their luck as refugees.
In the News
[The Toronto Star] Syria's refugee children cope with trauma of war
More like this
On the Ground in the Za'atari Refugee Camp
A Personal Reflection on the Crisis in Syria
Syrian Volunteers Rise to the Occasion
Share
Categories:
Geographic Regions: