UNICEF and Canada working to protect children after Haiyan
By Pernille Ironside and UNICEF Canada
This week, Canada's Minister of International Development, Christian Paradis, visited the Philippines to "speak with Canadian NGOs about the situation on the ground and impact of Canadian aid."
UNICEF and the Government of Canada have partnered to provide critical support to children affected by Super Typhoon Haiyan. Our team was grateful to receive a $3 million donation for emergency relief – funding that will save lives and protect children from violence, abuse and exploitation.
While in Tacloban, Minister Paradis and his team visited a UNICEF-supported Child Friendly Space at the Astrodome evacuation centre. The centre is accommodating approximately 1,700 people (or 300+ families), including hundreds of children, who are still living in very difficult conditions. These children need a Child Friendly Space to feel safe, protected and loved. While children spend the day playing, learning and receiving proper nutrition, their families are busy re-establishing homes and livelihoods. It is the space they need to heal - and to just be kids again.
The Minister was moved by the situation of the children playing inside and around the UNICEF tent with a variety of new toys, games and recreational materials to support their recovery through structured and age appropriate activities and informal learning. Since Super Typhoon Haiyan hit, UNICEF has worked with the City Social Welfare and Development Office to open 4 Child Friendly Spaces in Tacloban; this psychosocial support is being extended to tens of thousands of affected children in areas that have been hardest hit, starting in 13 municipalities of Leyte Province.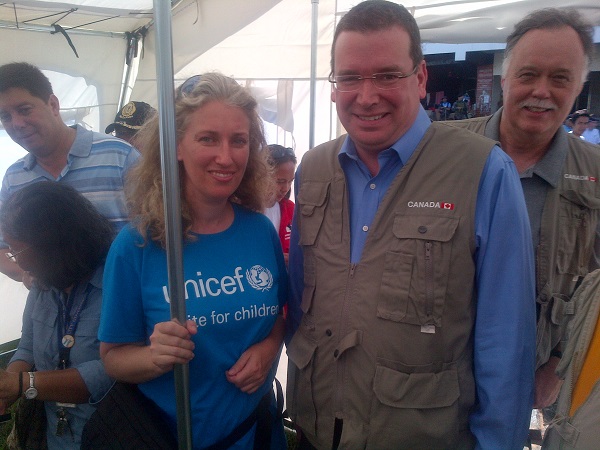 PHOTO: Pernille Ironside (UNICEF's Child Protection Specialist in Emergencies), Minister Christian Paradis (Canada's Minister of International Development) and Neil Reeder (Canada's Ambassador Designated to the Republic of the Philippines) discuss how Canadian support is helping to protect children affected by Typhoon Haiyan.
UNICEF's Child Protection program is also working actively with the Philippines government to rapidly scan the affected population to identify any children separated from their primary caregivers and reunite them with their families as quickly as possible, while also actively working to prevent cases of child exploitation, abuse and trafficking.
The critical funding we received from the Government of Canada will help UNICEF to provide safe spaces and psychosocial care to 300,000 children. Canada's support will also help us to provide water, sanitation and hygiene services to 450,000 typhoon-affected people, emergency nutrition services for 160,000 girls and boys, and safe learning spaces for 285,000 boys and girls.
Over 1.8 million children have been displaced by this emergency, which is equivalent to all of the children in Alberta, Saskatchewan and Manitoba combined. But Canadians have the power to make a difference.
You can donate to help save and protect lives. The Government of Canada is matching individual donations to Haiyan relief dollar-for-dollar until December 23.
Categories:
Geographic Regions: