UNICEF Book Blog: The Art of the Possible
By Robyn Chomyshyn
Advocacy Specialist, UNICEF Canada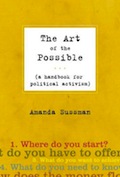 The Art of the Possible, by Amanda Sussman
Do you ever wonder how much of a difference you can make? Currently, I'm reading The Art of the Possible: A Handbook for Political Activism, by Amanda Sussman. I picked up this book when I was wrapping up my Master's degree in Public Engagement and Social Diversity at York University and it's been very helpful ever since! The book offers practical advice on how to access government decision making processes and provides detailed information about how policies are developed and implemented.
Having worked in the federal government, and now in my current role as Advocacy Specialist with UNICEF Canada, I appreciate the insights this book has to offer. I've recommended it to many people who are looking to make a difference and to those who ask themselves: What is the best way to make a difference – should I work from the inside of government and formal institutions or from the outside? I strongly believe that both approaches are needed for positive social change: "insider" and "outsider".
This book has also encouraged me to reflect on what skills I bring to my work and what new skills I might want to develop. For example, I've always been interested in negotiation and am now planning to explore this skill in more depth. Is there a special talent, skill or interest that you have but have not yet fully explored? We all have skills and knowledge to bring to the table, and it's critical that all voices are heard, especially those of children and youth, if we're going to make sound policy decisions to advance children's rights. Regardless of who we are or where we're working, we can all contribute to making a positive difference – in our communities, across Canada and throughout the world.
Other posts in UNICEF Book Club
International Literacy Day, by David Morley
Categories:
Geographic Regions: