UNICEF responds to families affected by Typhoon Bopha
An estimated 2.3 million children have been affected by Super Typhoon Bopha.
UNICEF is on the ground providing assistance to families, with a focus on ensuring clean water supply, providing temporary sanitation and non-food items for displaced families.
The super typhoon slammed into the south eastern coast of Mindanao during the morning of 2nd December with a wind force of more than 175 kph and very heavy, intense rainfall. The areas that bore the initial force of the storm, are those with the greatest damage and loss of life. In these three provinces (Surigao del Sur, Agusan del Sur and Davao Oriental) the vast majority of the confirmed 418 deaths occurred. This number is still likely to rise with another 383 still missing.
In these rural, mountainous areas, residents spoke of a torrent of water, mud and logs racing through their villages with very little warning. Most cannot recall a storm like it in living memory. The UN joint assessment teams reported 100% destruction in many of these areas, meaning all the housing and crops were damaged, destroyed or washed away.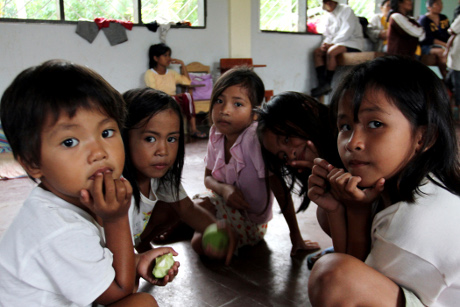 @ UNICEF Philippines/2012/JMaitem
UNICEF is particularly concerned about the provision of clean water in these areas, as initial information suggests water systems have been either destroyed, damaged or contaminated. The agency is providing an initial supply of 2000 water kits, which include both water containers and also water purification solution to ensure clean, safe water for families. The same quantity of hygiene kits, provide families with soap, toothbrush/paste, water containers, sanitary napkins and other supplies to keep families healthy, particularly from diarrheal and upper-respiratory diseases which are dangerous in young children. The agency is also supplying equipment for setting up temporary latrines which is becoming a high priority need, with so many homes destroyed.
UNICEF has teams in the areas most affected and will continue to assess and respond to the needs of children and families.
We'd like to thank the Canadian International Development Agency for funding UNICEF programs to provide clean water and sanitation facilities to those affected.
Survival Gifts
Emergency Health Pack
Dehydration and water-borne infections are quick to follow disasters. The Emergency Health Pack is designed for rapid, life-saving intervention. Contains: 554 Anti-Infection Tablets, 380 Oral Rehydration Salts, 1,668 Water Purification Tablets.
Categories:
Geographic Regions: