UNICEF responds to powerful 7.8 magnitude earthquake in Ecuador
By UNICEF Canada and Michael Sandler, UNICEF USA
The strongest earthquake to hit Ecuador in decades was felt by more than 15 million people according to early reports. UNICEF quickly assessed the quake's impact and is now providing life-saving supplies to children and families.
State of emergency declared; earthquake kills at least 246
A powerful earthquake has struck near Ecuador's central coast, registering 7.8 on the Richter scale, killing at least 246 people and causing damage as far away as Quito, the nation's capital, some 100 kilometers from the epicenter. The country's vice president Jorge Glas called it "the strongest quake we have faced in decades." Ecuador's government has declared a state of emergency in six provinces.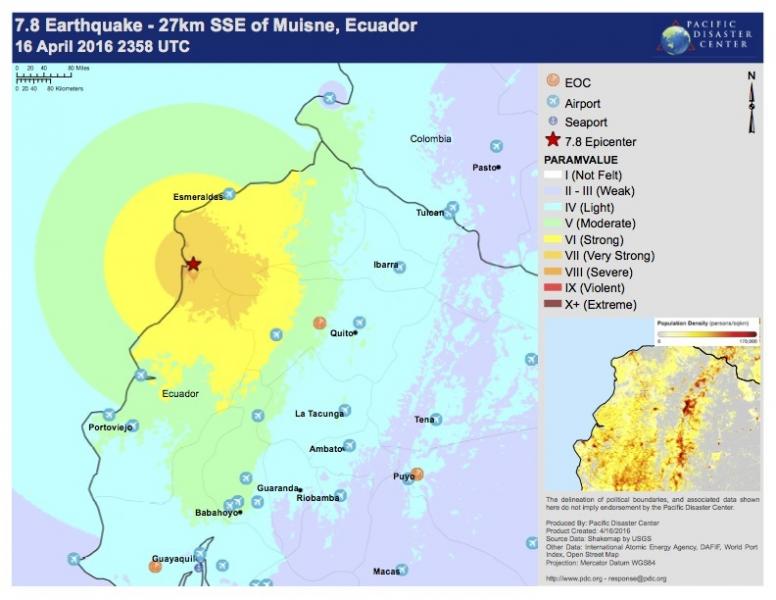 Photo courtesy of Pacific Disaster Center.
UNICEF is providing life-saving support in Ecuador
The full extent of casualties and damage is not yet known, but we know that children are the most vulnerable during a crisis. Early reports describe devastated villages in northwestern coastal areas and collapsed buildings in Guayaquil.
UNICEF Ecuador quickly assessed the needs of children and families affected by the earthquake and is now distributing life-saving supplies like water kits and tents. UNICEF has already delivered 20,000 water purification tablets to Pedernales, the area worst affected by the earthquake.
You can support UNICEF emergency relief efforts around the world by donating to our emergency fund and spreading the word.
We are also supporting the Government of Ecuador's emergency response. UNICEF will need $1 million to meet the immediate needs of the quake-affected children.
UNICEF is a leader in emergencies
Every year, UNICEF responds to more than 250 humanitarian emergencies — hurricanes, earthquakes and conflicts across the globe. With more than 11,000 staff worldwide and 350 warehouses globally, UNICEF stands ready to provide food, water, shelter, protection and health care — before, during and after a crisis. Learn more about UNICEF's leadership role in humanitarian crises here.
UNICEF in Ecuador
UNICEF has been working in Ecuador since 1973 to promote the well-being of the country's children and adolescents. For more than 40 years, UNICEF has advocated for their rights to quality education, good health, nutrition and protection from the first moment of life.
Ecuador is prone to natural disasters (floods, earthquakes, volcanic eruptions and tsunamis), and UNICEF has dedicated its efforts to emergency risk education and the strengthening of strategic capacities to prepare for and respond to emergencies.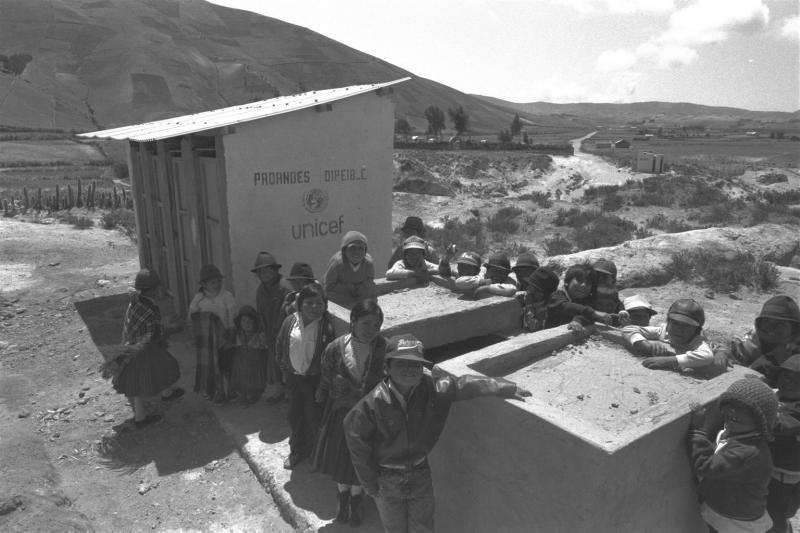 Archival photo of children gathering near a block of latrines built with UNICEF support in Communa La Cocha, in the province of Cotopaxi. © UNICEF/UNI53956/Horner

Banner image: Archival photo of children in Muisne, Ecuador. Muisne is a coastal town about 20 km from the epicenter of the earthquake that struck Ecuador on April 16, 2016.
Categories:
Geographic Regions: