Working around the clock to save lives in South Sudan
When violent conflict erupted across South Sudan last December, our colleagues on the frontlines saw the makings of a humanitarian disaster. Innocent lives were lost. Families fled their homes to survive. And children were recruited into armed groups. But as the challenge of reaching the most vulnerable grew, so did our resolve.
Our team worked hard to deliver life-saving supplies to over 200,000 people when they were hit with another crisis - a measles outbreak. The disease had claimed the lives of 30 children in the ravaged city of Bor and it threatened to spread if we failed to act.
Heeding the security concerns, UNICEF gained access to Bor during a ceasefire and urgently rushed in supplies.
Working throughout the night, five UNICEF specialists distributed vaccines and trained 10 teams of local vaccinators to protect 4,000 children against measles and polio. As another protective measure, we supplied Vitamin A to boost the children's immune system. The team was prepared to do everything possible to save lives.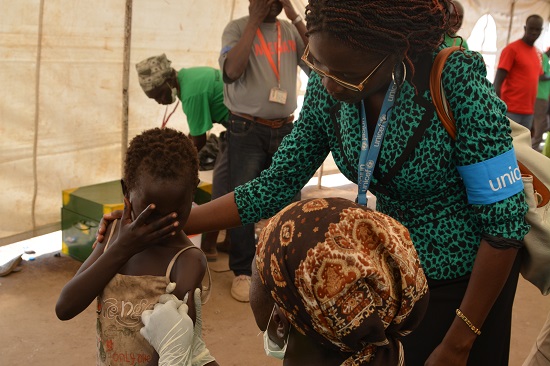 Can't bear to watch, a little girl closes her eyes as the needle pierces her skin. UNICEF health care specialists oversee the measles immunization drive.
Our emergency response is just beginning. Immunization campaigns are now underway in camps for displaced children in the capital city of Juba. With our partners, we aim to vaccinate and protect 180,000 children.
The immunization campaigns follow last week's delivery of life-saving items. Two UNICEF-chartered planes arrived in Juba carrying 70 tons of urgently needed medical supplies, from antibiotics to obstetric surgery kits.
But with over half a million people in South Sudan needing help, those supplies are hardly enough. UNICEF requires $32 million to reach children caught in the conflict.
Send supplies today by donating to the Emergency Relief Fund.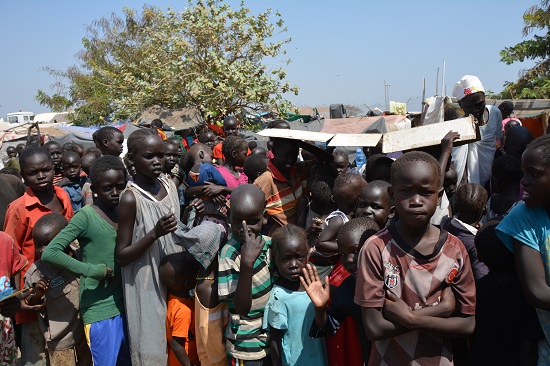 UNICEF and partners respond to measles outbreak which has already killed 30 children in Bor. Measles cases have also been reported in Uganda and Kenya among the South Sudanese refugees.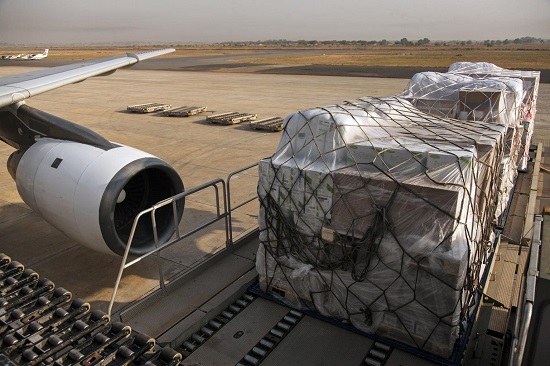 Two UNICEF-chartered planes arrived in Juba carrying 70 tons of of urgently needed items, such as: medical supplies; cold chain equipment; treatment for malaria, pneumonia, diarrhea and malnutrition; nutrients; vitamins; antibiotics; pain-killers for children; midwifery and obstetric surgery kits; water and sanitation equipment; and tents, tarpaulins and blankets.
Categories:
Geographic Regions: