Renew your support for children

In 2015, you helped save the lives of millions of children. Below are the stories of just a few of the children your donation reached.
With your help, we can reach even more children in 2016.
Our goals are big – and we know we can reach them with your help. This year we need your support to continue to work in four critical areas – health, emergency, education, and water and sanitation.
Thank you for standing with children once again.
---
Peter's Story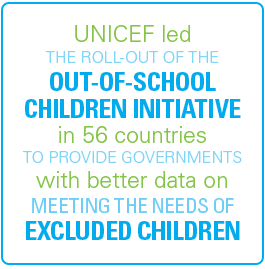 When Boko Haram attacked Baga, Nigeria, last year, 15-year-old Peter was there on his own visiting a family friend. In the middle of night Peter was forced to escape the mounting violence. "During the escape, I ran and ran – I think for 10 hours," says Peter. "I never stopped."
Peter eventually made his way to the UNICEF Dar es Salaam refugee camp in Chad, where thousands of Nigerian refugees had gathered after fleeing the conflict.
"I asked everyone I knew if they had seen Peter," said his father, who frantically searched neighbouring Maiduguri for his son. "I waited and waited, calling his name, but with no success."
Five days later, his father heard from a friend that Peter was safe, but due to conflict it wasn't safe for Peter travel back to his family.
For nine months Peter found ways to cope – making friends, playing soccer and attending the UNICEF school in the camp. But he missed his family.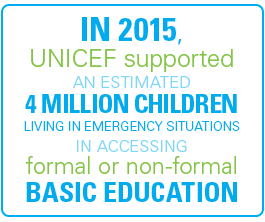 Thanks to the UNICEF's reunification efforts and your support, Peter and his family were finally reunited last November. "We are very happy to have our son and first-born back," says Peter's father.
To Peter's delight, UNICEF has also re-opened schools in the region – bringing education back to some 170,000 children. Now Peter and his classmates have a routine, a way to express their feelings and overcome the trauma of what they've witnessed, and real hope for the future.
"I want to be a soccer player," says Peter, who loves the sport. But he's practical, too. "I also want to be a mechanic."
Thank you for reuniting Peter and his family!
DONATE NOW »
---
Amalia's Story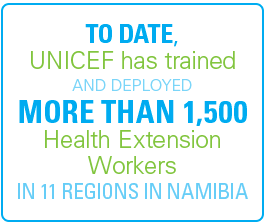 Amalia struggles to keep pace with her one-year-old son, Vicki, who is brimming with energy as he quickly explores his surroundings. Amalia has her hands full caring not just for Vicki, but her elderly grandmother as well. And this is compounded by her worry of having to traverse the difficult terrain surrounding her village of Onduru for nearly 30 kilometres to reach any kind of health care.
But thanks to you and Health Extension Workers like Abner, Amalia, Vicki and her grandmother are finally receiving the essential health care that they need.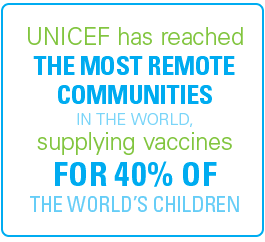 Abner trained with the UNICEF-supported Health Extension Worker program and travels to remote villages to check on the general well-being of mothers like Amalia, and their families by using a set of questions to detect any danger signs. He is also responsible for keeping little Vicki in good health well into the future by administering all of his routine vaccinations. Thankfully, Abner was able to report that the entire family is in good health, so he spent time showing the family tips for ensuring Vicki stays healthy. He is equally meticulous with each visit, spending more than 45 minutes ensuring his health guidance is well received and to give support where there are challenges.
UNICEF has been working hard in Namibia to ensure that every mother and child receives the health care they so desperately need – no matter how far they might be.
Thank you for helping Amalia and giving her son, Vicki, the best possible start in life.
DONATE NOW »
---
Improving water & sanitation on Tanna Island, Vanuatu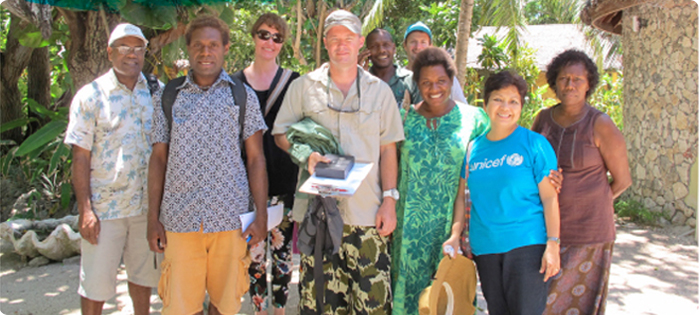 In Tafea province, the only sources of fresh water are springs or streams, well below the villages. Women and children often have to negotiate steep ravines several times a day to collect water for their households.
Thanks to your support, UNICEF and partners have been working with local communities to help provide clean, safe drinking water and improve public health by implementing hygiene and sanitation programs to improve personal hygiene to reduce diarrhoeal and infectious diseases. We've also been installing and maintaining specially designed water pumps in 31 communities in Tafea Province.

In Madeleine's village, Laounaoula, the main water source was in a deep ravine, a one hour return walk from her home. Many hours were spent collecting the water they needed every day for cooking, drinking and washing dishes. "Many experts had visited our village over the years to give advice on improving our water supply, but they all said 'impossible'. There was no solution, especially as we had no power."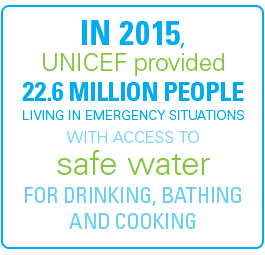 "So you can imagine what it was like the day our water pump was turned on for the first time. I was so excited, shouting and waving my arms, other women and children were crying … sobbing, realizing that we didn't have to walk down that steep ravine to collect water in heavy containers again. It has changed our lives forever, and has made such a big difference for our families."
The water pumps have been specially designed to withstand the harsh conditions on the island and use the kinetic energy of a stream to pump a small percentage of the flow up the pipe to the village, without the need for fuel. Communities receive training in how to operate and maintain the pumps and part of the project involves the creation of small businesses specializing in the installation and maintenance of the pumps.
DONATE NOW »