10 Underreported Stories: Saving Children's Lives
In a forgotten urban shanty-town or in a village miles from the media spotlight families are struggling for survival. In remote corners of the world, a mother sees the hope in a medicine kit brought by a health worker. Every day, lives are being saved.
Over the past year I have spoken to children, their families, health workers, and my UNICEF colleagues who are on the forefront of the child survival revolution. But for most Canadians this is not possible. Most Canadians learn about the lives of others through stories we read in newspapers, magazines and blogs, or see on television.
But there are many stories that do not get told, including the story of the 19,000 children who die every day from causes that are easily prevent able and the global efforts to end these senseless deaths.
We have endeavoured to tell their stories – the most underreported child survival stories of 2012.
Every day around the world, UNICEF workers equip themselves to go as far as necessary to save children's lives. For UNICEF the goal is simple: child survival. The reason is simple too: because no child is too far. We go wherever the need is great, no matter how complex the problem, no matter how rough the terrain, no matter how remote the location.
See the Report: 10 Underreported Stories: Saving Children's Lives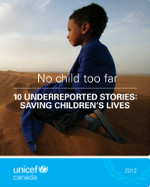 As you read this report remember you are reading about the daily realities of millions of families around the world. You are also contributing to UNICEF's efforts to reach these vulnerable children because knowing their stories is the first step in helping ensure they survive.
Categories:
Geographic Regions: